Entrepreneurship
17 July 2018
9 min
3 innovation superpowers everyone has but isn't using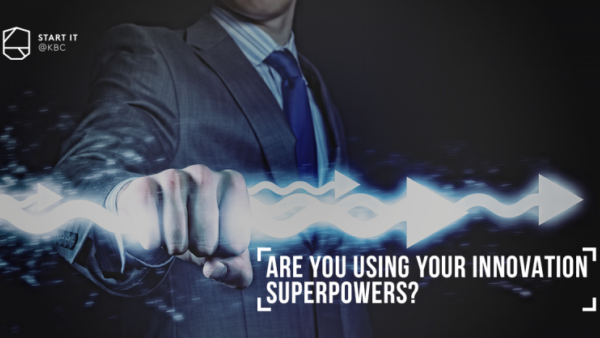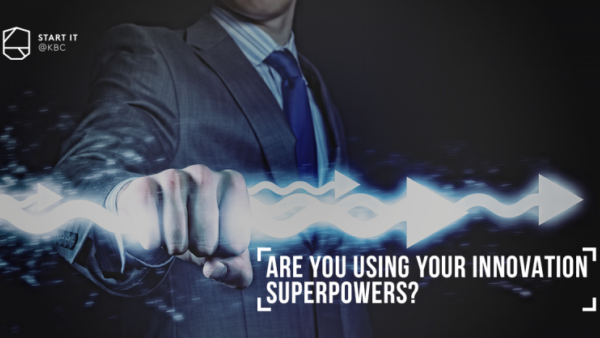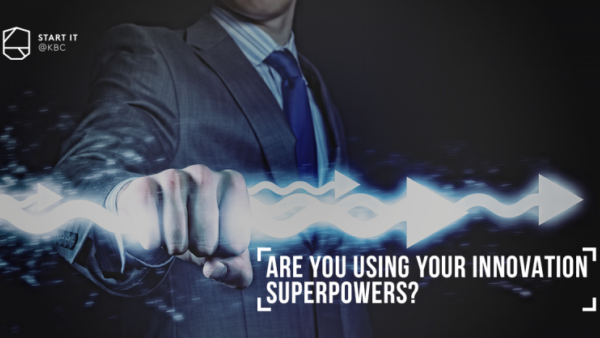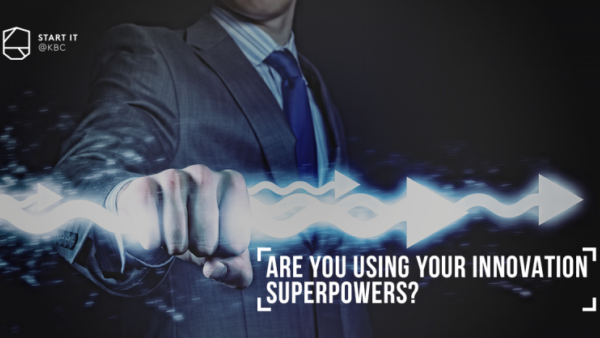 Back to overview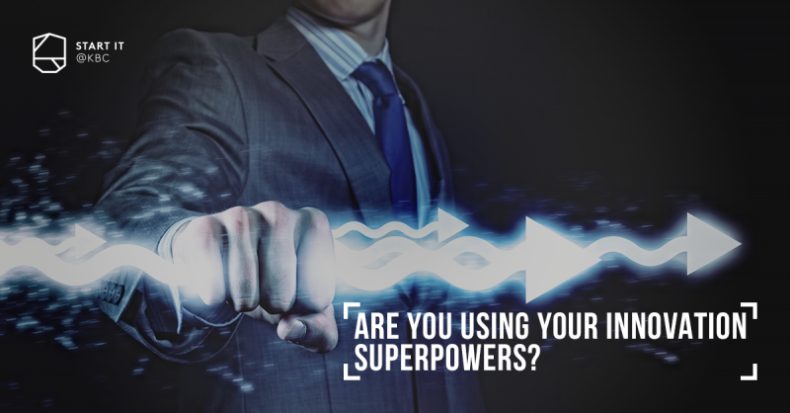 "you can actually run out of cloud"
We live in a Shark Tank world: competition is fierce, talent is better than ever, and we're all striving to come out on top. CEO's recognize the need to innovate: 93% of them are aware they need to innovate to grow, but 81% of those same CEO's say their teams are not equipped to meet the challenges of competing in today's market. In other words: they don't believe their company can do it. 90% of Silicon Valley companies have an innovation strategy in place. But only 20% in the rest of the world. These are hard metrics.
The 3 innovation superpowers are: super intelligence, super speed and super synergy, and this is backed by new technology like AI, IoT or Cloud. Innovation usually happens in these domains: Product, Operational Excellence, Client Experience and Business Model.
A lot of companies launch what they can make, not what people want.
How can these 3 superpowers help? By understanding well-known disruptor's intents and strategies, we can recognize and implement the superpowers that set these innovators apart. From the strategic use of AI to a relentless commitment to cognitive diversity, companies like Amazon, Redfin and Thulium are incorporating these superpowers in their business today. These insights are based on Sandy Carter's research with Carnegie Mellon SV in her book Extreme Innovation. We'll illustrate this mainly by some great examples.
Super intelligence & Customer Obsession
We heard one word more than any other in this 2018 edition of SXSW: Empathy. The panel started off with confirming this: innovation = empathy. Companies, of every scale, should be obsessed by their customers. Here are some examples of how some companies innovate and really build in this mindset in their core of doing business.
Just-eatlistens to customers obsessively and even runs hackathons with them. They are one of the first companies to integrate Alexa in their services, based on customer feedback. Something that was already so easy to do, order food, becomes even more convenient.
Amazonalways first writes a dummy press release before they actually start working on an innovation, imagining what the headline would be. This enables you to think about the one thing that would trigger the customers, and keeps you far enough away from the tech stuff. Then they write a FAQ set, working on deeper detail. Finally they write a working 'reverse' narrative: based on 5 questions:
Who is the customer?
What is the customer problem or opportunity?
What is the most important customer benefit?
How do you know what customers need?
What does the customer experience look like?
To illustrate this process and what can come out of it: Amazon Go
Start it @KBC offers corporates working on their own innovations with a range of hands-on services, so their teams can be incubated within our walls, surrounded by hundreds of startup founders and experts. Often we get the question how big those innovation teams that they send should be. I like the Amazon approach: the 'Two Pizza Teams' comparison (two pizzas are enough to feed it). A team that small can decompose a problem or opportunity to primitive problems, has a single-thread focus, should be self-directed, fostering ownership and autonomy.
Super speed & creation of diverse and agile teams
This brings us to the next superpower: Super Speed. A big issue in every company is decision making. Think of it as a gate with two doors. If you open one door, most small decisions can go through. Only for very big issues, both doors need to be opened. More than often than not in companies, two open doors are needed to decide on one door issues. Companies should empower their teams more to make most of the decisions themselves, and only escalate for bigger issues. It would cut down on middle management and save a lot of time.
Now, how can you empower teams to innovate?
First of all as a company, set a Big Fat Goal: make a future dream or image so innovation thrives constantly and not just once. This translates top down: let your innovation teams dream big and set big goals. Then get them to dig into the data and the numbers to check their assumptions. This implies an easy access to an easy to use database. As a company who wants to innovate: make this happen. Once this is in place, think of using machine learning to power innovation, make predictions, take snapshots.
Redfin for example launched, based on an idea backed by machine learning and data driven innovation, the 'Redfin estimate': which is now the most accurate estimation for real estate.
A second important step is cognitive diversity. Also at Start it @KBC we focus a lot on diversity. This goes beyond the men/women percentage in a company. It's being aware that diversity directly empowers innovation and creativity, but needs a constant focus on positivity and collaboration. By the way: female founders build larger ecosystems, they are 15% more profitable, yet they are 30% less likely to get funded. This doesn't make sense. So there's a way to go here.
A third step that we add ourselves: failure. If you want to learn as a company (how to innovate) you need to realize that there is no learning without failing. Only by experimenting, living it, you learn. And experimenting means there's a big chance of failure. Failing should be celebrated, certainly not punished. We'll come back to this in future blogposts with some lessons learned from Singularity University.
Super synergy & building ecosystems of partners
At Start it @KBC we actually started building an ecosystem from the beginning. Having all stakeholders at one table as partners empower them to give feedback, collaborate, contribute and win together. Our partners joined Start it @KBC to boost entrepreneurship in Belgium, to make a difference for the Belgian economy.
How do build your own ecosystem?
Think of four types of possible partnerships: Driving, Emergent, Enabling and Passive. A few examples to illustrate: driving: Microsoft partnering with Facebook to drive the use of 'Bing'. Emergent: acquisition by Facebook of Oculus because they believe in this new technology and could generate new business. Enabling: supporting the existing business. Passive: this could be reselling a product.
Finally, also machines can and will be part of your ecosystem. We will talk about this topic more deeply in our next blogposts.
Conclusion, the 5 Super Power takeaways:
Obsess over your customers
Construct a mechanism for speed where needed
Build cognitive diverse teams
Leverage technology
Create an ecosystem
If you want to take the test if you're an innovator, here's one suggested by the panel.
For corporates: how can you point out an innovator? Simple. An innovator is a life long learner, risk taker, customer obsessed, experimenter, problem solver and ecosystem builder. In other words: someone crucial for your company, but very often ignored or mismanaged, because, let's face it, they are asking the hard questions and force you to step out of your comfort zone. Keep those people on board and treat them well. If they're not around to ask you difficult questions you can improve your offering to customers with, someone else will hurt or disrupt you with a ready made solution.
Things are going so fast that today is your slowest day of the rest of your life.
Written by Lode Uytterschaut
Twitter: @luytterschaut