As a partner of Start it @KBC, the University of Antwerp always has one eye on the world of startups, technology and entrepreneurship. In fact, the university has a valorisation office, where teams of innovative researchers transform into spin-off startups. We asked Iris Vanaelst, who has been working with high-tech startups for over 15 years, to share 5 of her most important startup tips.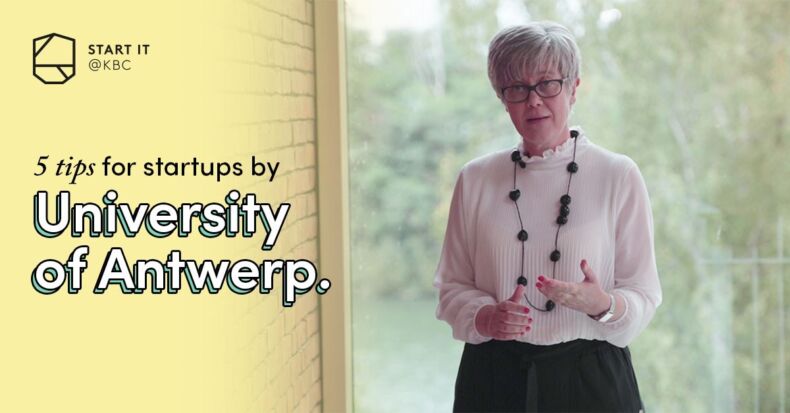 TIP 1: team, team, team
If you want to set up and grow your startup, you are going to need more people. The first big question is: who do you hire? Many founders have the tendency to look for similar profiles. But the real challenge is: try to compose a multidisciplinary, cohesive team. A great, passionate team is worth just as much as a great product - maybe even more.
TIP 2: turn technology into customer benefits
Technological innovation will bring you nowhere, if you don't have customers. Translate your technological features into customer benefits and focus on those benefits when you are pitching your idea to venture capitalists.
TIP 3: partner up for IP access
Just like every other company, your startup wants a competitive advantage. One way to get it is by tapping into the intellectual property of others. By collaboration with knowledge institutions, such as universities, you will be able to access top-notch science, technology and innovation. These kinds of partnerships can be your ticket to a competitive advantage.
Tip 4: funding can connect you to knowledge institutions
Government funding is provided to support collaborations between you - the startup – and knowledge institutions. Note that working with these institutions does not mean you can use their IP for free – you'll need to agree on a compensation. When you decide to work with the University of Antwerp, the valorisation office will help you to get that funding.
TIP 5: leverage the ecosystem
By becoming a member of Start it @KBC, you get access to their entire ecosystem. Be sure to use that network, because it is a gateway towards a massive talent pool. You will notice that knowledge institutions have close connections to open innovation hubs, incubators, science parks and accelerators such as Start it @KBC. Work your way into these ecosystems, and you will get advice and support for years to come, even after your time at Start it @KBC.