Digital disruption and innovation have transformed the classical media sector over the last decade. We paid a visit to our partner Mediahuis, a leading media company in Belgium and the Netherlands and a key player in this digital revolution. Startup consultant Caspar van Rhijn and corporate business development manager Patrick De Wachter share some of their most valuable advice for young and ambitious startups.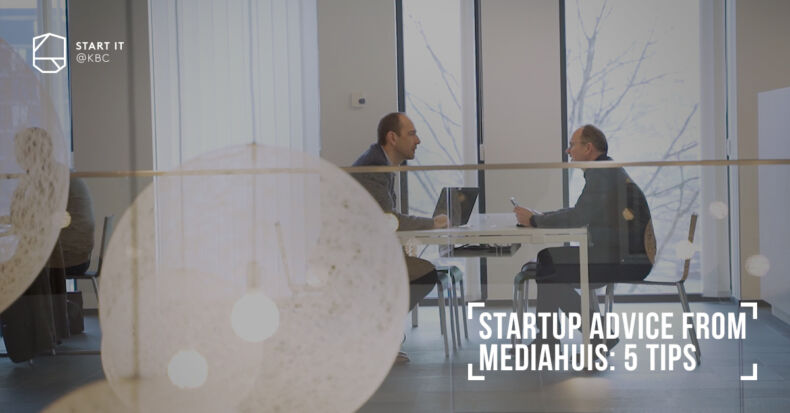 Tip 1: "Show me the money!"
When you have had a great business idea, the first thing you want to do is let people know you exist. You want them to remember your name and eventually try out your product. But don't forget to focus on the most important thing: your business model. Making money should remain your number one priority, because you will need that money to attract (new) investors and evolve from an ambitious startup to a successful scale-up.
Tip 2: Take time to talk to the press
Want to spread the word by sending out a press release to your entire contact list? You might want to think again! Journalists rarely even read those press releases. So the chance they will write something about it is pretty slim. Take the time to talk to journalists the old-fashioned way: face-to-face. Only use email as a follow-up tool. But start by asking yourself: what makes my story interesting for journalists and their target groups?
Tip 3: Writing your own code is not the holy grail
Writing brilliant code is not a goal in itself. The goal of your startup should be to help your customer as efficiently as possible. Do you need to write code to fix their problem? No problem. But if there's a more effective way to fix the issue, then don't fixate on the code. Act fast, use what is already available and keep learning from others.
Tip 4: Use the +100 years of experience
Make use of the experience, guidance, coaches and mentors of startup communities like Start it @ KBC. With more than 100 years of experience combined, they have a lot to offer. Trust in their judgement and expertise, they are here to accelerate your business and keep you from making the same mistakes they did.
Tip 5: Think Global
Belgium is too small for your startup to reach its full potential. In order to evolve from startup to scale-up, you will have to think bigger. Test your product in Flanders or Belgium, but focus on the rest of the world after that.
Would you like to hear more tips and professional advice? Get in touch and we will help your startup to move forward.