Entrepreneurship
9 July 2018
5 min
GO WEST! Start it @KBC opens borders and helps your startup chase the American Dream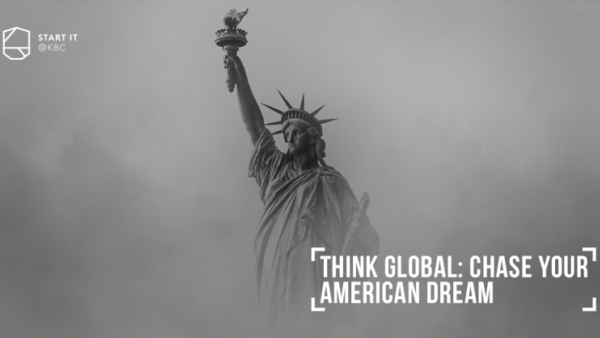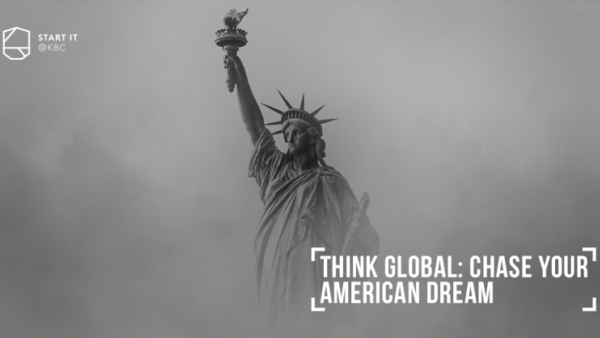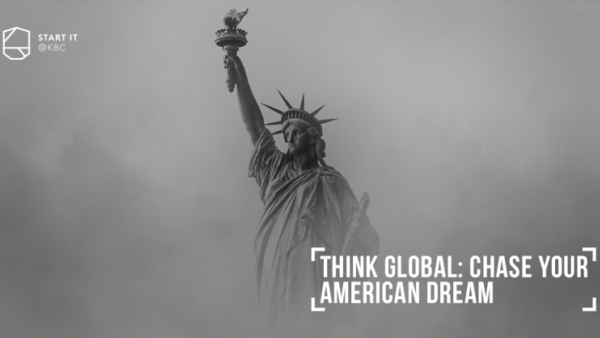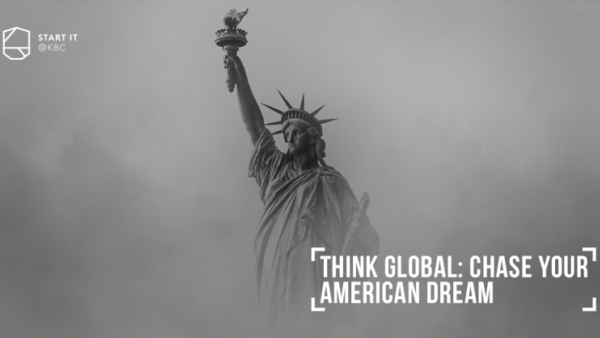 Back to overview
Belgian startups and scale-ups no longer have any excuse not to chase their American Dream. Start it @KBC spreads its wings and flies to New York and San Francisco. As a startup or scale-up, you can count on a roof over your head, a big community and a network, and an unforgettable immersion in the American way of doing business. Think big, act big, what are you still waiting for?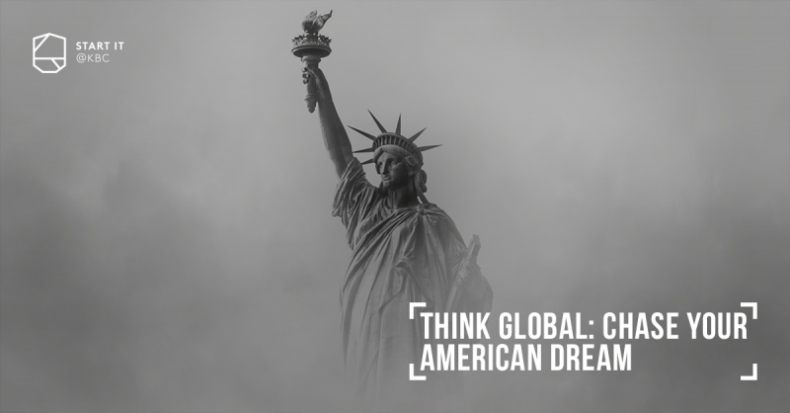 Technology makes borders shift and disappear. Startups today have a global mindset, Belgium is just step one on the path to world domination. As the country's biggest accelerator for startups and scale-ups, we are pioneering by offering our members a unique international experience.
"Start it @KBC is already a part of GAN, the world's biggest accelerator network, which offers extra opportunities for start-ups on the international stage and up to 1 million dollars' worth of exclusive advantages from technology partners. We have a brand new hub in Eastern Europe. And now, we give our startups and scale-ups the chance to follow their American dream", Start it @KBC founder Lode Uytterschaut explains. "The United States is a huge, exciting market."
If you want to find out whether your American Dream stands a chance, you can use both New York and/or San Francisco as your (temporary) home base. "Competition is getting tougher and tougher and new startup cities are emerging and blooming: Boston, Austin,... But New York is still one of the most important economic and cultural capitals of the world; the city that never sleeps. San Francisco and Silicon Valley are a walhalla with brilliant minds from all over the world. It's probably the area with the biggest concentration of geniuses per square kilometer in the entire world."
Conquer the USA
Start it @KBC offers you the opportunity to explore New York for free for 6 weeks. You get office space at the headquarters of KBC New York. You can choose whether you prefer one long stay or several shorter visits. When you are busy conquering America and you want to extend your stay in the USA after those six weeks, you can relocate to BelCham Atelier in New York or San Francisco. The Belgian-American Chamber of Commerce, representing and supporting Belgian entrepreneurs in the US, offers you a temporary office at attractive rates and all the support you need to get started.
Adriaan Hoogmartens, Business Developer at KBC New York, has been working in the States for five years now. He blindly finds his way through the city, and has built a huge network in the Big Apple. Adriaan is the first contact for the Belgian startups and scale-ups that arrive in New York. "We offer so much more than just a roof over your head. Just as in Belgium, startups and scale-ups become part of our community of entrepreneurs. The Belgian community in New York really sticks together. We show each other the way. Not just to affordable apartments to stay or nice lunch places, but also to future business partners and potential customers. We introduce you to the American way of doing business. If you understand the unwritten laws, the local conventions and the traditions, you will move ahead much faster in the States."
Think big, act big
ArtAssistant is the first cloud based platform 'by art collectors, for art collectors'. The Belgian start-up successfully reached out to collectors, gallery owners, curators and art fairs in New York. With a little help from BelCham and KBC New York.
"We could build on KBC's and BelCham's network and contacts, something we could never have gathered ourselves on such short notice", founder Alexander Tuteleers says. "We were looking for very specific profiles in New York: test-users with a Belgian background, who could approach our application 'the American way'. Their feedback gave us a headstart in our switch to the real local market."
If you are serious about growing your business in the United States, there are a few things you should take into account though. "Some American companies tend to be a little protective", Alexander Tuteleers noticed. "They prefer working with other local companies. But our European experience offers them something new, we can add value in domains they don't know very well themselves. My advice? Don't try to be too American, but learn to use your European background to your advantage. At the same time, make sure you don't only talk to other Belgians in the USA. Working with local people who are able to sell your European experience and your European offering the American way gives you an important advantage."
"We have learned a lot from being in New York. The market is so much bigger and so much more expensive in New York that it forces you to set high targets in order to be profitable. Belgian entrepreneurs are more modest in general, but New York constantly challenges you to think big and act big."

Do you also have an American Dream? If your startup or scale-up is interested in a (temporary) move to New York or San Francisco, get in touch via startit@kbc.be.