At Start it @KBC, we believe that innovation is a key element in any company's business strategy. With that in mind, we try to surround ourselves with partners who share that vision. One of them is Accenture, an international consulting agency with a strong focus on innovation and technology. We asked Wendy Geeraert of the Start it @KBC startup Co-libry to sit down with Accenture's Innovation Lead for Belux, Felix Amez, and talk about the growing importance of innovation. Baudouin Thomas, who is a member of the Accenture Belux Executive committee and the board of Start it @KBC, was more than happy to join the conversation.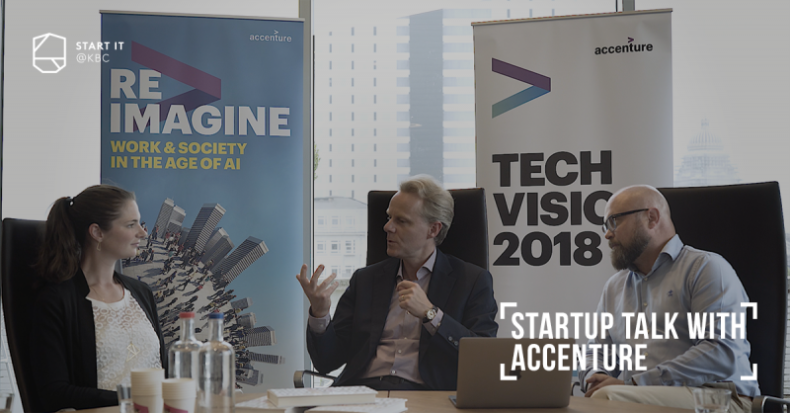 Innovation and digital transformation
"We have been a partner of Start it @KBC since the beginning", tells Baudouin. "Right from the start, Accenture wanted to support Start it and guide the startups in the right strategic direction", he says. "We offer them coaching", Felix continues, "and access to our network of local and global experts for questions they might have regarding business transformation and technology topics. Secondly, we provide mentors that can push them from ideation to scaling. These mentors are the ones that can introduce a startup to the right industries and to our clients."
"Accenture is active in the B2B business, so we're mainly interested in supporting startups in the B2B mode", Baudouin says. "We also focus a lot on open innovation and digital transformation, with special attention for customer experience and branding."
Felix gives three concrete examples of startups that Accenture collaborates with. "The wellbeing of the exceptional employees is extremely important. So we're working together with the startup Sleepability, to monitor and improve the sleeping behavior of our people", Felix continues. "Accenture BeLux is committed to zero-emission and our ecological footprint, so we are investing in our electric fleet. We're talking to Pluginvest to see how we can apply their electrical charging services, for Accenture and our leasing companies. A third example is our participation via Tomorrow Street in an incubator platform in Luxemburg of Vodafone Group, Telco. There, EPIC Blue and Port-WiFi were selected to go into pitching and have concrete discussions with the Vodafone group."
Innovation Architecture
Innovation at Accenture is organized around the so-called Innovation Architecture, which covers the entire innovation lifecycle. "We work from ideation innovation all the way up to delivery innovation", Baudouin explains. "We have thought leadership, studios and labs, all in function of bringing innovation to our clients and to startups."
Baudouin is convinced that the partnership with Start it @KBC creates a lot of benefits for Accenture as an organisation, but for the people within Accenture as well. "Being in contact with startups, creates energy and passion. It works in two directions, we have a lot to learn from each other."
For Felix, working with Start it @KBC and being in contact with startups also meant a huge change: "I personally went from being part of a corporate to start thinking entrepreneurial for a corporate. Secondly, I learned that failure is an option. And thirdly: you should always have a plan B. So, it's been quite an interesting experience."
Want to work together with a big corporate? Here are a few tips to do it right.
Think about your value proposition. Will it fit in the go-to-market of the corporate you want to work with?
Focus on your startup's story line. How can you make it as appealing as possible to the corporate?
Aim high. When you make an entrance, try to go straight for the decision makers. They are the fastest way to closing a deal.
Approach a corporate via different channels. Use sponsors, influencers and other ways to get a foot in the door. Be transparent about the other companies or partners you may be talking too.
If you get a 'NO' from someone inside a corporate, try to understand why. Once you get that information, use it to try out different channels, adjust your way of work or change your value proposition.
Make a power map with the corporate's key stakeholders.
When you're developing a technology platform, think ahead about the final architecture. It's crucial that your technology fits in the corporate application landscape (example: SAP / Oracle / Salesforce / Dassault Systems).
Watch the full video here and subscribe to our Youtube channel to stay up to date!