It's great to be green, but do startups really need a sustainable or a circular business model in order to be successful? "We want big companies and governments to take their responsibilities, but it's the startup world that can provide us with specific and measurable solutions."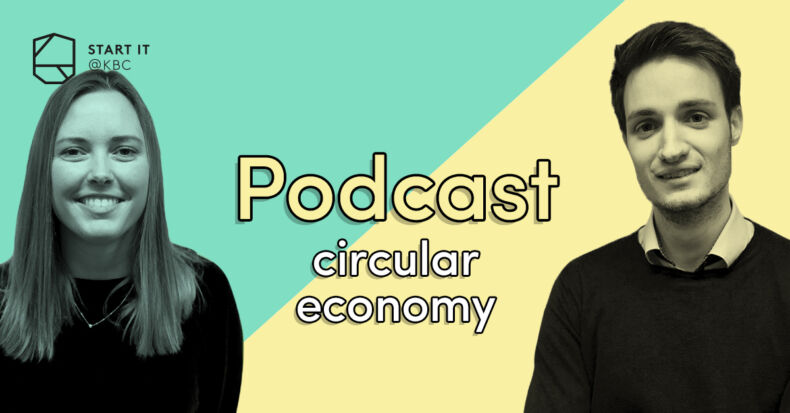 With Laura Morrell from Recy-call and Jannes Valkeneers from Bullswap, we invited two sustainable entrepreneurs to our podcast studio. Recy-call collects broken phones in Africa to recycle them here in Europe, while Bullswap is a rental platform where construction companies can rent heavy materials. Their mission? To inspire people to turn our disposable society around.
More than just a hype
If there is one topic young people are worried about today, it's the environment. Younger generations all over the world are using their voices and asking companies to act now and change their views on sustainability. And while many people still see the climate change marches as a hype, Jannes and Laura strongly believe they won't blow over that easily. "As long as you see and hear about ice caps melting every day, people will keep talking about it", Jannes says.
"Unfortunately, many decision makers at big multinationals are not willing to invest in sustainability right now. But they are regular people just like you and me, who worry about climate change. Just like us, they want to create a better future for their grandchildren. That is why sooner or later, they will invest in sustainability."
The sacrifices of sustainable startups
Being a sustainable startup, means making responsible choices that go beyond money and profit margins, even if that means you're evolving slower than other startups. "At Recy-call, we recycle old batteries. That's not a part of our core business, but tossing away batteries is harmful for the environment. And that clashes with our vision", Laura says. "We choose to spend a large budget on ways to diminish that negative impact. Not many startups are willing to sacrifice big parts of their revenue like that, just to reduce their ecological footprint."
Greenwashing
Many companies talk the talk, but do they all walk the walk? It's easy to claim that you're green, but what if you don't act like it? "Greenwashing, or misleading your consumers by pretending to be more environmentally friendly than you actually are, is something we see regularly. Luckily people start to demand more transparency", Laura says. "Customers are beginning to see right through these greenwashing tactics and no longer accept that misleading type of communication."
Opportunities
Does this mean a sustainable or circular business model is a must-have for startups? "Not every startup can be sustainable. But if you see an opportunity, you should grab it. It's your responsibility as an entrepreneur. If you're open to a more sustainable approach, a lot of new opportunities will arise", Jannes says.
"More transparency in the supply chain, will mean that companies which don't take their responsibilities will be punished", Laura adds. "The fast fashion industry immediately comes to mind, but there are various other industries that need to improve their sustainability. That means there are many opportunities for sustainable startups to set a good example."
Do you have a question for the Start it @KBC community that you want answered in this podcast? Post it in the comments and you might find out the answer during the next episode!
This podcast was made possible thanks to our strategic partners – KBC, Telenet, Cronos group, Accenture, Mobile Vikings, Flanders DC, Joyn, Imec and Universiteit Antwerpen.
Subscribe to the Start it @KBC podcast now and don't miss a single episode!
Have you listened to the previous episodes? In episode 10 we talked about the secrets of hiring the best talent with Michael Van de Meirssche (Jobat.be) and Maarten Verschuere (Clever). With Sara Rachdi, founder of THINK with People, and Amaury Timmermans, co-founder of startup QIQO, we discussed tips and tricks on perfecting your pitch in episode 11. For episode 12 we invited Bruno Koninckx (KnowledgeFlow) and Bart Buckinx (BookWidgets) about product-market fit.

LINKS

Laura Morel is the co-founder of Recy-Call, a startup that organises the e-waste cleanup by collecting broken phones in Africa and recycling them responsibly in Europe.
Jannes Valkeneers is co-founder of Bullswap, an online sharing platform where construction companies can rent (out) heavy construction machines.