In episode 14 of our podcast, we delve into the remarkable startup story of Pieterjan Verhaeghen, co-founder of Bolt. Bolt is the energy matchmaker that lets customers decide which specific local wind, solar, bio or hydropower station is to provide the energy they use.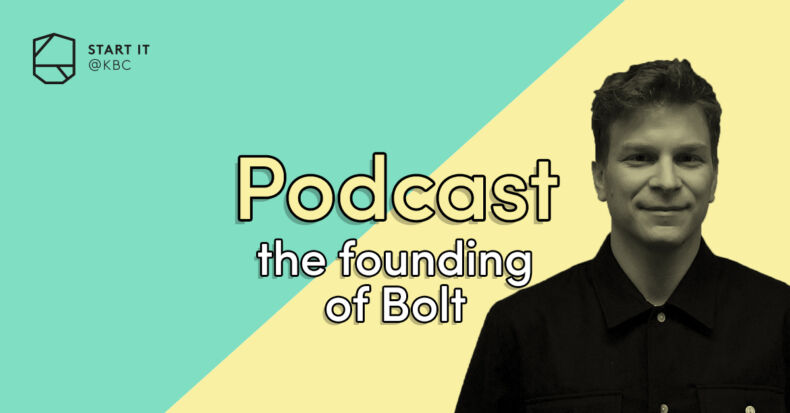 Subscribe to the Start it @KBC podcast now and don't miss a single episode!
The Start it @KBC podcast is available on Soundcloud, Spotify and a lot of other listening platforms. Make sure to check out our Anchor profile where you can subscribe to different channels (Apple podcast, overcast, ...).
Bolt: Matchmaker from heaven
"Around 40% of people sign a contract for green energy", Pieterjan states, "but oftentimes they don't know whether the energy's source lies in Belgium. No one knows where these certificates are from or if the promised energy sources are even legitimate."
This is where Bolt comes in. Bolt's mission is to make green energy contracts more transparent by employing a matchmaker-style approach. Pieterjan: "We want people to be able to say that the windmill they pass on their way to work, or the solar panel park in the city close to their home is what's covering their green energy. We want people to know exactly where their energy is coming from.'"
Challenges of intrapreneurship
There's a famous quote by author, scientist and (Google) X Director Astro Teller, that goes: "all entrepreneurs are crazy, but people that operate their startup from within a big corporation are just insane". Is that the case for Pieterjan, who immediately entered the innovation program of a big energy company?
"The company, intrigued by our objective, realised they could not implement the service by themselves. They were willing to provide time and goodwill for our idea, which is of course of vital importance. We pitched our idea, just like you would do at Start it @KBC or any other accelerator. We had to work out the idea in a very short period of time and in return they made the commitment of supporting us."
Finding the right balance
Working under the wings of a big corporation can have some risks. It's easy to lose the independence that makes a startup so unique. "It's true that you have to find a balance between enjoying your independence and seeking a nudge in the right direction. Collaborating with a big company can make it easier to get that boost you need - whether it's by receiving financial support, expertise or business contacts." Pieterjan shares.
Peer-to-peer energy trade
Since its launch, Bolt has closed agreements with multiple local energy producers. Their ultimate goal is to accomplish a peer-to-peer purchasing method. Pieterjan: "We want people to be able to not only buy vegetables but also green energy from their next-door-neighbour, instead of having to turn to an independent green energy company. That is our ambition."
Do you have a question for the Start it @KBC community that you want answered in this podcast? Post it in the comments and you might find out the answer during the next episode!
The production of this podcast was made possible thanks to our strategic partners – KBC, Telenet, Cronos group, Accenture, Mobile Vikings, Flanders DC, Joyn, Imec and Universiteit Antwerpen.
Subscribe to the Start it @KBC podcast now and don't miss a single episode!
Have you listened to the previous episodes? With Sara Rachdi, founder of THINK with People, and Amaury Timmermans, co-founder of startup QIQO, we discussed tips and tricks on perfecting your pitch in episode 11. For episode 12 we invited Bruno Koninckx (KnowledgeFlow) and Bart Buckinx (BookWidgets) to tell us about product-market fit. Episode 13 featured Laura Morrell from Recy-call and Jannes Valkeneers from Bullswap, who talked about sustainability and circularity.
LINKS
Pieterjan Verhaeghen is the co-founder and general manager of Bolt, a platform that connects local energy providers (wind, solar, bio or hydropower) to end consumers.
Astro Teller is an entrepreneur, author, scientist and expert in intelligent technology. He is best known for leading the X Development LLC (formerly known as Google X), a research and development facility founded by Google.