In this episode of the Start it @KBC podcast, we listen to the remarkable startup story of Loop, the company that develops fashionable and comfortable earplugs. "Our goal is to change the perspective of youngsters towards ear protection", says co-founder Dimitri O.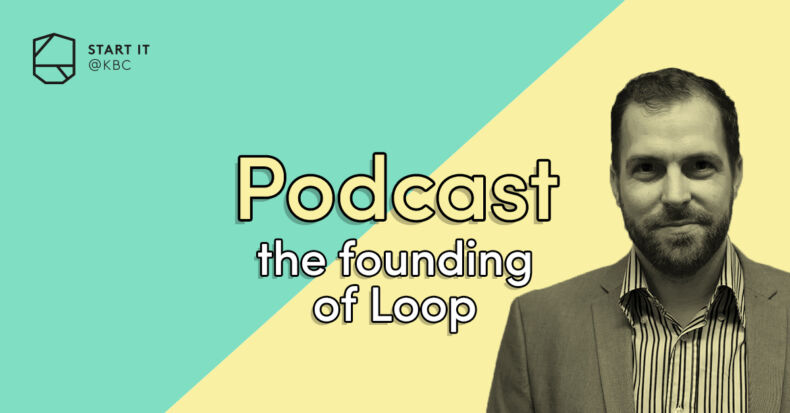 Subscribe to the Start it @KBC podcast now and don't miss a single episode!
The Start it @KBC podcast is available on Soundcloud, Spotify and a lot of other listening platforms. Make sure to check out our Anchor profile where you can subscribe to different channels (Apple podcast, overcast, ...).
From B2C to B2B
Loop's mission is pretty simple: the startup wants protect partying youngsters from getting ear damage by developing fashionable earplugs. Loop mainly focuses on a B2B market. "Our first plan was to focus on B2C, but we soon noticed that B2B also had a lot of potential. For next year, we are looking at sales prognoses of 150.000 to 200.000 pairs of earplugs from one big retailer in the US. And there are other retailers already lining up to order similar amounts."
The success of Loop came as a bit of surprise, even for the founders. They originally estimated to sell about 60.000 pairs, but today the company is active in over 60 countries across the world. It turned out that they completely underestimated the interest of the American market. "We had to add a zero to all our plans, which caused some trouble in our production and staff", Dimitri admits.
The slicing pie model
One of the main challenges that startups face, is the development of their team. Ongoing arguments between team members are one of the most common causes of startups calling it quits. Dimitri believes to have found a perfect answer, in the slicing pie model. It's an accounting system that tracks the input of each party, enabling the members to divide shares in a correct way. Discussions on who is worth the most are wiped off the table, since the model tracks everything that you do for the startup.
"We've been working together this intensely for 2 to 3 years now. In this period, we've never had a discussion on whether all parties contribute enough", Dimitri says. "The slicing pie model takes into account how many hours everyone works and which amount of money you put into the company. We kept things as simple as possible from day one, by deciding that both co-founders would start at fifty-fifty."
Conquering the world
So, where is Loop heading in the coming years? Seeing how surreal and unpredictable the last couple of months have been, it's pretty difficult to predict what the next 3 years will bring. What we do know, is that sales are booming in the US. If those numbers keep increasing, it might be a good idea to relocate to the States. "We believe it's important to stay connected with the market. If the American market becomes much bigger than the Belgian market, we'd have a very good reason to move to the US", Dimitri suggests. No one knows what the future will bring, but looking at how things are evolving right now, Loop could become bigger than they ever imagined.
Do you have a question for the Start it @KBC community that you want answered in this podcast? Post it in the comments and you might find out the answer during the next episode!
The production of this podcast was made possible thanks to our strategic partners – KBC, Telenet, Cronos group, Accenture, Mobile Vikings, Flanders DC, Joyn, Imec and Universiteit Antwerpen.
Subscribe to the Start it @KBC podcast now and don't miss a single episode!
Have you listened to the previous episodes? Episode 13 featured Laura Morrell from Recy-call and Jannes Valkeneers from Bullswap, who talked about sustainability and circularity. In episode 14 we delved into the remarkable startup story of Pieterjan Verhaeghen, co-founder of energy matchmaker Bolt. Episode 15 focused on the importance of PR for startups, with PR expert Saar Dietvorst and Hadrien Crespin, co-founder of the smart parking app Seety.