Growth hacking: is it just another marketing buzzword, or should we consider it the holy grail of modern marketing? We invited Nicholas D'hondt, growth hacking expert and CEO of Plann3r, to talk us through it. "Growth hacking is a mind-set. It's the will to keep experimenting."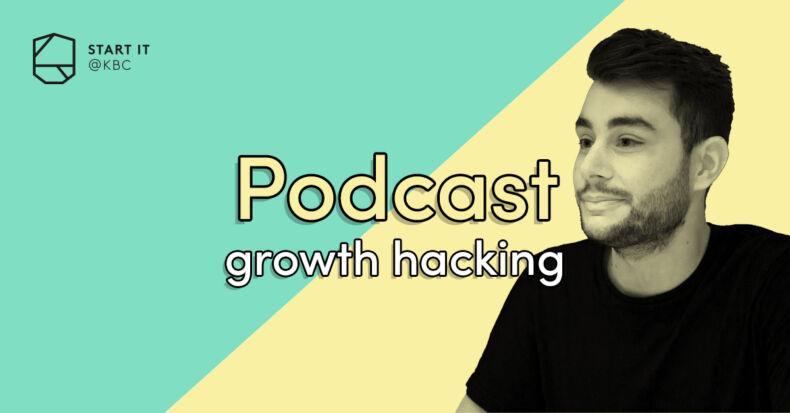 Subscribe to the Start it @KBC podcast now and don't miss a single episode!
The Start it @KBC podcast is available on Soundcloud, Spotify and a lot of other listening platforms. Make sure to check out our Anchor profile where you can subscribe to different channels (Apple podcast, overcast, ...).
Did you know people lose an average of 30 minutes every day scheduling meetings? There has to be a better and more efficient way, is what Nicholas D'hondt and his co-founders said when they founded Plann3r. "By using Plann3r, it only takes 30 seconds to set up a meeting with a business lead, from selecting the participants to getting the meeting planned in your agendas."
Every starting company needs marketing to get their product or service known by the public. But what if you don't have a marketing budget? That's where growth hacking comes in. "Just like many other startups, Plann3r had no money to spend on ads or big tv and radio campaigns", Nicholas explains. "So I started looking for more creative ways to generate leads. I got interested in growth hacking, read everything I could find about the subject and participated in workshops. I discovered that the potential of growth hacking was enormous."

The courage to experiment

So what's the difference between growth hacking and traditional marketing? "The big difference is in the mindset", Nicholas says. "Growth hacking means having the courage to experiment. Do you have an idea to generate leads? Then try it out. Don't wait too long, just give it a shot. If it doesn't work, try something else."

According to Nicholas, there are one thousand and one ways to successfully use growth hacking. The key is finding out what works for your company, by trying things out. "One way to get your company in the spotlight, is by setting up partnerships", he says. "Not with competitors, but with companies from your own sector that share your target audience. We, for instance, have a partnership with TeamLeader. We organise webinars together, because we share a common marketplace."

Creating value

"We discovered that LinkedIn was a great way for us to start a conversation with potential customers. Not by spamming people with messages, but by connecting and creating value for them. Just use yourself as a reference: which type of mails, messages or notifications do you appreciate, and which ones do you consider irritating? Once you've answered that question, use it to offer your leads content that relates to a problem your company can fix. Try to give your message as much context as possible, to make your connection more personal.

Growth hacking can be a great tool for all kinds of companies, in many stages and sectors. But still, large corporations tend to be a lot more reserved than small companies. "Corporates worry about their image too much. When I show them a list of everything I want to do, it has to pass a dozen managers and decision makers, whereas startups and small or medium-sized companies can act fast"

Trial and error is essential

"Growth hacking doesn't work if you don't fully understand the process", Nicholas continues. "It's not enough to try, if you're not planning to go through with it. Loose experiments won't tell you anything, you have to analyse the ones that fail, learn from them and adjust your technique or even pivot. And the best part is: you can do all this without spending a lot of money. Reddit, LinkedIn and Twitter are just a few of the many tools that are completely free."

Trial and error is an essential part of growth hacking. It's what allows you to find the best channel for your growth marketing strategy. "Facebook ads can be extremely effective, but it all depends on who you are trying to address", Nicholas says. "We once did two identical campaigns for the same company, with six months in between. Guess what? The reach decreased by 50%. Facebook is on its way back, just as all social networks come and go. It's your job to stay one step ahead. And don't be afraid to look at traditional email marketing. People underestimate the impact of email nurture campaigns and follow ups. At Plann3r, we send users specific emails based on what they are doing in the app. Do they have a lot of meetings planned? Then we'll give them more pro tips. Are they hardly even using the app? Then we'll give them advice to generate more leads and eventually plan more meetings."

Do you have a question for the Start it @KBC community that you want answered in this podcast? Post it in the comments and you might find out the answer during the next episode!

The production of this podcast was made possible thanks to our strategic partners – KBC, Telenet, Cronos group, Accenture, Mobile Vikings, Flanders DC, Joyn, Imec and Universiteit Antwerpen.

Subscribe to the Start it @KBC podcast now and don't miss a single episode!

Have you listened to the previous episodes? Episode 15 focused on the importance of PR for startups, with PR expert Saar Dietvorst and Hadrien Crespin of the smart parking app Seety. In episode 16, we had Dimitri O as our guest Dimitro is the co-founder of Loop, the company that develops fashionable and comfortable earplugs. For episode 17, we invited Dennis De Clercq of Buffl to talk about design thinking and what big corporates can learn from startups.