As most entrepreneurs know, it's important for startups to start selling to their target market as soon as possible. Yet selling directly to B2C customers is very different than selling to other businesses. What challenges are involved? And what's the best way to approach B2C sales? In this podcast Pieter Minnebo from Eduvik tells us everything we need to know.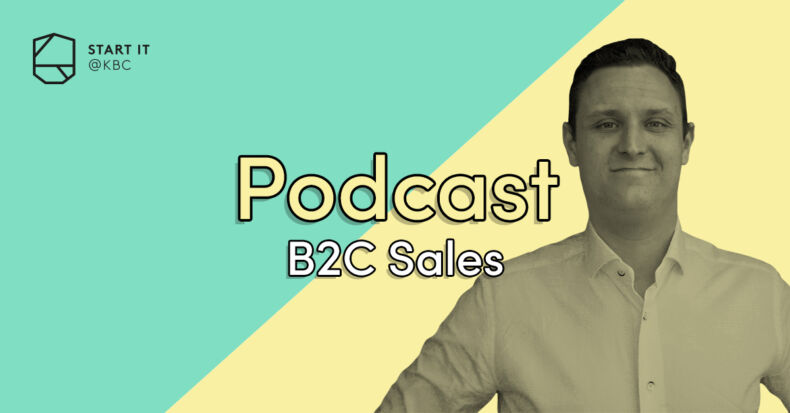 Subscribe to the Start it @KBC podcast now and don't miss a single episode!
The Start it @KBC podcast is available on Spotify, Apple Podcasts and lots of other audio platforms. Make sure to check out our Anchor profile where you can subscribe to all the different channels (including Google Podcasts, Overcast, Podbean and more).
A niche service in high demand
Eduvik helps clients find the best tutoring in their neighborhood. Simple, fast, for every subject and only with screened tutors. Pieter and his team pursue two target groups: tutors and the parents and students seeking them. "Tutor screening is a bottleneck at the moment," he admits. "We handle the screening completely personally. We do it that way to ensure the quality of the tutors, and also to create a bond with them."
There is no shortage of those seeking tutors, the actual clients. Eduvik is proof that anyone who thinks B2C startups suffer from the need for high volume to hit break-even, needs to adjust their views. "Compared to last year, we've quadrupled our growth!" reports Pieter.
Testing the waters but growing fast
Eduvik wants to keep growing and scaling up. Starting in Belgium and then heading abroad. "The biggest challenge is gaining clients in other countries. The driving forces are different in the Netherlands and France," says Pieter. "When we start internationalizing, we'll continue to test our side products and projects. One of those is giving short boot camps and crash courses just before resit exams. We do risk losing focus there. We have to stay focused on the main product as well, because in that area, we're starting to experience growing pains."
Eduvik is cautious by nature, says Pieter: "We estimated a higher cost of acquisition, but it's actually lower than we anticipated. So there's been a big influx of new clients. In April we made the brave decision to lower our prices, according to the laws of supply and demand."
It's all about lean & mean marketing
Key advice from Eduvik: invest enough money in marketing and advertising. "You've got to invest in it from the beginning, but you also have to see which channels are the most effective for you. And try to aim for cost-efficiency."
Pieter's parting words? "We want to do well across the board, a client base has to stay satisfied. They're the ones doing free advertising for you."!