In this episode, we're talking about the importance of data privacy. A lot has been said about this hot topic lately, with the implementation of the GDPR in May. We asked data privacy experts Dimitri Verhelst and Tom Van de Putte to join us today and share their professional views.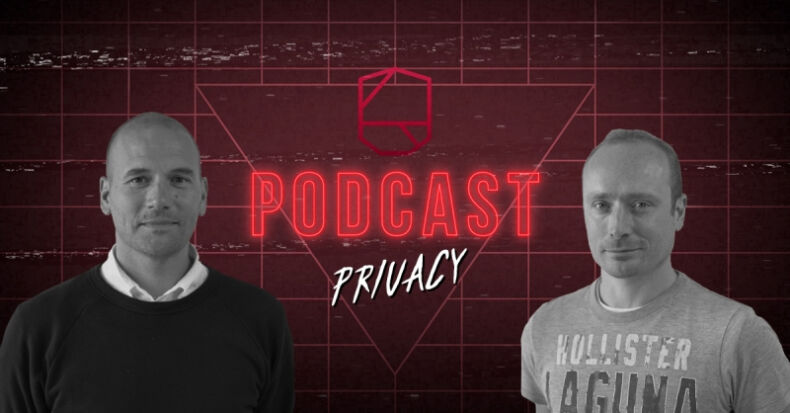 Verhelst is the co-founder of Juru, an online platform that gives customers full control of their online identity. Van de Putte is the co-founder of Bingli, the app that interviews patients ahead of a doctor's consultation, so that the symptoms are accurately communicated to the doctor on beforehand.
Subscribe to the Start it @KBC podcast now and don't miss a single episode! Listen on soundcloud or check out our Anchor profile where you can subscribe to different channels (Apple podcast, overcast, ...)
Verhelst: With Juru, we have created a personal data wallet, that you can use for all kinds of things in your daily life. Juru is a reaction to the frustrating fact that you need to give your personal data over and over again, whenever you buy something or register online. It allows people to manage their own data, so that they can share it in a much safer way. Most companies only want to do minimal changes in order to be GDPR-proof. But we offer GDPR 2.0, with much more added value.
"Juru's main challenge, was to convince corporates that data doesn't actually belong to them, but to the individual."
It wasn't easy to turn Juru into a success. Our main challenge, was to convince corporates that data actually belongs to the individual. That's the inconvenient truth many companies don't want to hear. It took us two years before we could close our first contract, because we always had to explain the future of digital identity and data protection. Juru provides a future-proof identity database and it takes some time before people understand the value of that. Luckily GDPR has changed the mindset of many people. The last few months, sales are going up. GDPR has been a great opportunity for us.
Van de Putte: We started Bingli, because we saw a big frustration on how medical consultations are managed today. Everything has to happen fast. So when a patients describes his problem, the doctor is often not really listening. After years of working in advertising, I wanted to make a difference for people. This was my opportunity to do so.
GDPR was everywhere over the last few months, it has been a major talking point. Rightfully so?
Verhelst: GDPR is a very important step. It's about giving ownership of data back to the individual. Corporates can no longer use data that people have not explicitly given access to. If you as a company, are doing things right, then GDPR is just a framework.
But for companies that use data for all the wrong reasons, like Facebook is currently doing, GDPR is an enormous challenge. Facebook is not just a social network, it's a personal data store, without explicitly telling so. The main power of GDPR, is that even large corporates like Facebook and Google are now forced to use personal data in a different way.
"With GDPR, Europe is leading the way for the rest of the world"
We at Juru believe the individual is the only one with a private key. We have built a blockchain network that says: the individual decides what he shares and who he shares it with. A token allows you to share only what the other party needs, nothing more than that. One example: if you want to enter a nightclub, you'll only have to show an age token, not everything else that's on your ID.
GDPR is European and in the US, they are now looking at us. Europe is leading the way. GDPR is rolled out on a global scale, American companies that are active in Europe also have to follow it. We are setting the tone, and from an economical point of view: we are creating relevance for EU developers.
Tom, for Bingli data privacy is crucial.
Van de Putte: That's right. Medical data is the most severe part of the GDPR legislation. It's important to capture only data that is relevant. Don't over-ask, don't ask for things you don't need. We work by the concept of data-minimisation: don't hold too much data and don't keep it in your possession for too long.
What Bingli asks upfront is age and gender, to avoid that a gynecologist asks questions to a man for example, or a doctor asks a woman about her prostate. We also need a name to link the patient to the right doctor and we collect data about the occurring symptoms. If we ask to describe the symptoms this upfront, patients can think them over.
"There's a lot to do about GDPR, but it all makes perfect sense"
From a GDPR point of view, we have to inform the patient why we are asking these questions and what will we do with it. If he gives his consent, we share the data with the doctor. There's a lot to do about GDPR, but it all makes perfect sense. If you're working with sensitive data you need to be very careful. Bingli started with GDPR in mind, we were always preparing ourselves. We were GDPR-proof by default, which is a big difference with many companies.
How did you enter the Start it @KBC community?
Verhelst: We pitched our idea at B-Hive, the fintech hub in Brussels. Koen Vingerhoets was in the audience and asked us to come and pitch at Start it. A few weeks later we pitched there and entered.
Being a part of Start it @KBC is what gave us credibility, which was extremely important since we didn't have much to show to people. Putting the Start it logo on our slides, made a big difference in cachet and credibility.
"It's great that Start it welcomes startups in their early ideation phase"
Van de Putte: Once we were integrated in the Start it ecosystem with Bingli, many doors opened. We got invited to other programs and incubators, it gave us visibility and access to fairs, pitching events and so on. Dirk Lievens, our coach and mentor, had a big network in the medical world, which helped us to get in contact with some really interesting and relevant people.
It's great to see that Start it welcomes startups in the early ideating phase. You don't need a working prototype or whatever to enter. They believe in the idea, before the execution is there. The network, that is what creates great value.
Do you have a question for the Start it @KBC community you want answered in this podcast? Post it in the comments and we might ask them to our guests in the next episode!
This podcast was made possible thanks to our strategic partners – KBC, Telenet, Cronos group, Accenture, Mobile Vikings, Flanders DC, Joyn, Imec and Universiteit Antwerpen.
Subscribe to the Start it @KBC podcast now and don't miss a single episode! Have you listened to the first three episodes? Our first podcast starred Steven Pyck of Sympl. In the second episode we focussed on DIVERSITY, with entrepreneurs Ingrid Renders (Maison Slash) Aline Muylaert (CitizenLab) and Hassan Al Hilou (AGE Diversity). The third episode on TECH featured tech-entrepreneurs: Johan Vos, co-founder and CTO of Gluon, and Hilde Van Brempt, co-founder and Business Development Manager of iDalko.
LINKS
Dimitri Verhelst is co-founder of Juru, de blockchain-guardian of your digital identity.
Tom Van de Putte is co-founder of Bingli, the app for smart medical interviews, enabling better and more efficient doctor consultations.
You can find all there is to know about the General Data Privacy Regulation (GDPR), on the official website of the European Commission.