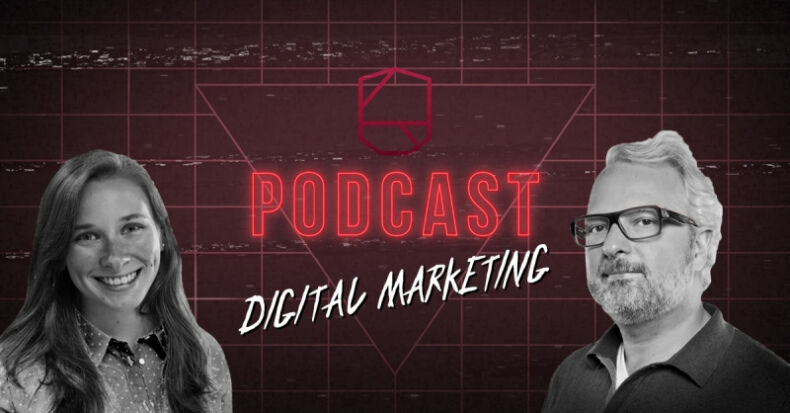 Subscribe to the Start it @KBC podcast now and don't miss a single episode! Listen on soundcloud or check out our Anchor profile where you can subscribe to different channels (Apple podcast, overcast, ...)
When did you get so passionate about business and startups? Tell me about the initiatives you started to help entrepreneurs create a sustainable business.
Van Wassenhove: I grew up between people building their own companies and doing what they like to do. That's where my love for marketing and communication go-to-market came from. I ended up at the Cronos Group, a group of companies that are very busy with innovation and technology, two of my other interests. We started Think with People to support people who think about growing their own company, from a product point of view. Next, we founded The CoFoundry, an investment fund for startups beyond the phase of first experimentation. We help them grow by providing money, experience, knowledge and a network.
Anneleen, when did you start working for Apicbase and what is it like to work for a startup? What are the advantages?
Hanssens: I joined Apicbase a year ago, when I was looking for a marketing position that would fit my passion for food. During my internship at Flavr, I got to experience what people would call 'the startup vibe'. I wanted to find a full time job at a startup and have some impact on the company. You get to learn a lot, but you have to do it yourself through trial-and-error and that's something I really like. Of course, the link with the food and hospitality sector only made it more interesting.
Apicbase is a software company. We developed a food management platform where you can manage all your recipes, allergens, menus, ingredients, orders to suppliers... You can make intercreatings with your point-of-sales system. The idea is to optimize your profits and your restaurant flow, to turn it into a successful business. Our USP is our photo studio. We made the software very visual, thanks to the photos you can upload to the system. Convenient for visual trainings, but also for consistency.
Bert, which digital marketing tactics are most important for startups? For instance email, social media, search engine marketing, content marketing, influencer marketing, PR, Partnerships, etc.?
Van Wassenhove: It obviously depends on the type of business you're in. The tools you can't get around are Google and Facebook. For growing startups, all tactics that are close to the conversion moment and will generate immediate sales are important. You have to focus on your website, making sure it works flawlessly and that you can actually track your selling and lead source. PR can definitely help, but in the end you still have to sell.
Which tools have proven to be most effective for startups?
There is a difference between the channels and the tools. From a channel point of view, it's Google Ads combined with SEO, Facebook, email marketing and anything that has to do with tracking. When it comes to tools, the elephant in the room is typically Google Analytics. You can spend hours working with it and it helps you a lot. Buffer is a cool tool for managing social media. And Woo Rank helps you with SEO.
There are two big differences between B2B and B2C. First, there are very specific channels for specific sectors in a B2B context. A second difference is the mentality. B2B projects are rarely instantly and you'll have to ask more than one person around the table. In a consumer environment, things go a lot faster. Chances are, there's only one person to convince. So the channels and the approach of making the conversion are different.
Anneleen, how do you measure the success of your digital marketing efforts? And what are the specific tools you use for that?
Hanssens: I've set up a chain of measurement tools that helps us define the return on investment in every step of the sales process. It lets me see where our leads comes from, who made an appointment and who became a customer. This information is generated in ByPrive, a tool used by our sales team. The online measurements happen in Google Analytics. All numbers are reported on a monthly basis to the management team, which will optimize our ads and our budget accordingly.
Where did you get this knowledge from?
Hanssens: I tested a lot of things and did research. You can also visit the Google Digital Garage in Brussels for tips & tricks and workshops.
Bert, what are online marketing challenges for startups? For instance the GDPR changes, do they change the kind of activities people can carry out through digital marketing? What are some other challenges?
Van Wassenhove: GDPR is on everybody's mind, but to me it's not a challenge. If you have been doing email marketing complying with the law over the last ten years, meaning that you have asked for permission and you stored the data, then nothing changes. GDPR is not about email marketing. On the long term, for platforms like Google, Facebook and Apple, there can be a huge impact once they go into deep analysis. But it's not so much of a direct challenge for the startups themselves. It will be taken up by the channels. So GDPR has to be taken into account, but only as a constraint.
The real challenge for a startup is often getting the basics right, focussing on conversion with simple metrics. A lot of startups start with that, but as time goes by, they tend to forget those things they learn in the beginning. Managing conversion is often forgotten. Branding? Sure that's cool, but an entrepreneur has to get the leads in and sales done. Even more profound is the why of your company. Every 6 months you have to question yourself 'Why are we doing this', 'What problem are we solving for the customer?' and 'Is everything we do aligned with that?'. With Think with People, we do a lot of these early stage sessions, finding focus. That seems to be a bigger challenge than aligning things with GDPR.
Before we move on to the final part of this podcast, I would like to know how Apicbase learned about the Start it @KBC community. What in particular did the startup get out of it that took Apicbase to the next level?
Hanssens: It's hard to not know Start it @KBC, starting up a company. The most valuable is the network. I like the way like-minded people interact with each other. You can exchange ideas, but you can also share your failures and successes. You're not alone with your co-founder, but you can share the ups and downs of startup life with a whole family.
Bert, what about you: how did you become an expert at Start it @KBC and what's in it for you to be part of the Start it @KBC community?
Van Wassenhove: When we set up The Cronos Group four years ago, we thought it was a good idea to jump in down the rabbit hole together with KBC. First of all, it gives a very good insight in the Belgian startup scene. I would say Start it is by default the incubator you should know about as a startup. When it comes to The CoFoundry, it allows us to track talent, discover new ideas, to learn about building companies… Every now and then, a startup in the community grows into the area where funding is interesting. But the main purpose is connecting with entrepreneurs. Working with them teaches me almost as much as my experience and expertise in digital marketing and building companies teaches them.
Do you have a question for the Start it @KBC community you want answered in this podcast?
Post it in the comments and we might ask them to our guests in the next episode!
This podcast was made possible thanks to our strategic partners – KBC, Telenet, Cronos group, Accenture, Mobile Vikings, Flanders DC, Joyn, Imec and Universiteit Antwerpen.
Subscribe to the Start it @KBC podcast now and don't miss a single episode! Have you listened to the last episodes? The third episode on TECH featured tech-entrepreneurs: Johan Vos, co-founder and CTO of Gluon, and Hilde Van Brempt, co-founder and Business Development Manager of iDalko. Episode four, about GDPR and data privacy, starred Dimitri Verhelst (Juru) and Tom Van de Putte (Bingli). And in episode five, we invited Peter Wellens, ceo of the contextual messaging app Chestnote, to listen to his remarkable startup story.
LINKS
Bert Van Wassenhoven is the managing partner of the incubator The CoFoundry and the founder of Think with People, a sounding board for entrepreneurs and host of some of our Start it Academy workshops.
Anneleen Hanssens, is the Marketing Manager of Apicbase, a complete food management platform in the cloud to manage recipes, allergens, nutritions, food cost, ordering and planning. With a photographic twist.
WooRank is a former Belgian startup that helps you optimizing your website rankings and online visibility through SEO.
Buffer is a social media management platform for brands, agencies and individuals.
At the Google Digital Garage in Brussels you can attend digital marketing workshops and trainings.