A good start is half the battle, so the saying goes. But many entrepreneurs will agree that's easier said than done. One way to give your company a good start, is by setting up a crowdfunding campaign. We invited Jeroen Spitaels to our podcast studio, who used crowdfunding to get his startup Mealhero on the tracks.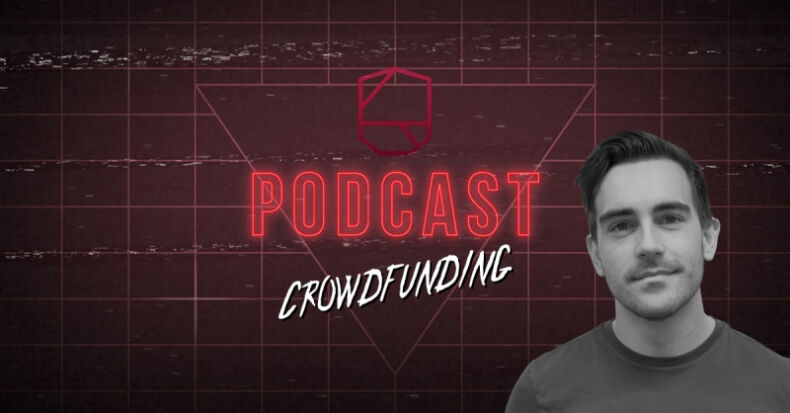 Jeroen is the CEO and one of the co-founders of mealhero, the Ghent-based smart food service. Mealhero combines a smart steamer device, a food box filled with freshly frozen ingredients and a smartphone app, so you can cook a fresh and healthy meal with zero effort. "We ran a crowdfunding campaign on Kickstarter for one month, in November 2017", Jeroen says. "That month gave us the chance to do the pre-sales of the entire concept and get people to start using our product."
Subscribe to the Start it @KBC podcast now and don't miss a single episode! Listen on soundcloud or check out our Anchor profile where you can subscribe to different channels (Apple podcast, overcast, ...)
Customers first
Mealhero's goal was to collect € 65.000 in one month's time. "It was an all-or-nothing campaign. If we didn't achieve that goal, we would have to go for a plan B and basically start over. So we were very happy with the result: we over-funded for 120% and raised € 80.000. And in all honesty: we didn't have a plan B."
There are different crowdfunding platforms out there. How do you know what's the best choice for your startup? "That depends on the product", Jeroen says. "With Mealhero, we made a choice between Kickstarter and Indiegogo. We eventually went for Kickstarter because that's the best known platform, especially for technological products. Since crowdfunding isn't really well-known here in Belgium and the Netherlands, we felt we really needed that extra recognition."
"We decided to go for reward-based crowdfunding, not equity and debt crowdfunding", Jeroen continues. "We were inspired by the crowdfunding campaign of Onak, a company that makes foldable origami canoes. They talk about three main directions you can go with crowdfunding: work on the pre-sales of your product, raise capital and get the validation that you have a product market fit. The rule is that you can only choose two of those three. For us it was clear that we needed pre-sales to gain customers first and the validation of our product in the market. First the customers, then the funding."
Don't wait for perfection
Two years before starting the crowdfunding campaign, the mealhero team started asking feedback from a test community. "Our product is rather expensive, so it needed to be perfect from the beginning", Jeroen says. "When we first delivered Mealhero to our customers, we had been using and testing prototypes for one or two years. Thanks to the feedback from the testing phase, we started the campaign with a more or less final product and thus we were able to sell immediately. We only changed some little things after that, based on feedback from users."
"Getting that kind of feedback creates a lot of involvement from the community that supported us when we needed it. It depends on the product, of course. If you sell food to retailers, it needs to be perfect right away. With B2B software, you can always do adjustments. We do that on our smartphone app as well. Strive for perfection, but don't wait for perfection."
Content is king. But distribution is queen and she wears the pants. Did mealhero have a strategy for that? "We started planning distribution six months before the campaign, leaving nothing to chance", Jeroen explains. "We set up a marketing strategy, sales strategy and PR to really sell the product. Our campaign was online, but offline as well. Since we have a food product, people want to see and taste it. We did tastings, events, went to people's homes to prepare a meal for them, we went to companies, attended conferences… We first did all these offline demonstrations to gather leads and build our name, then we could spread the word online. That very combination made it successful."
Live up to expectations
Jeroen continues and tells us there's a boat load of things you can't predict. "We needed to plan for failures on the product side and on the business side. One example: we initially planned to start our food production in April. But we needed a large freezer first, we needed funding. That was a problem on the business side, with consequences for the product side. You need flexibility on both sides. Things will take a different turn, you need to adapt with sufficient recourses, time and energy."
During the Kickstarter campaign, Mealhero kept their backers in the loop with three of four updates a week. "But keeping them in the loop after the campaign, is even more important. That's when you don't want to keep them in the dark. You need to live up to your promises. We sent emails every two weeks, telling them what we did, our evolution, decision we made."
Successful alternative
"We chose crowdfunding because we were stuck in the vicious startup circle. We needed customers, but we needed a product to offer them. In order to build that product, we needed recourses and funding and traditional funding didn't give us that. Our testing community made it possible to prove to investors that there were people out there who actually wanted the product. More customers led to more validation and more funding."
Jeroen has some advice for people who want to follow in his footsteps and start a crowdfunding campaign. "Do it, but do it well. Don't just get a product out there and hope the market will like it. It doesn't work like that. Prepare, put in the work and you'll get results. Learn from each other. As soon as you launch your product, things will get intense and crazy, but it's worth it."
Do you have a question for the Start it @KBC community you want answered in this podcast? Post it in the comments and we might ask them to our guests in the next episode!
This podcast was made possible thanks to our strategic partners – KBC, Telenet, Cronos group, Accenture, Mobile Vikings, Flanders DC, Joyn, Imec and Universiteit Antwerpen.
Subscribe to the Start it @KBC podcast now and don't miss a single episode! Have you listened to the previous episodes? Episode six was all about digital marketing for startups, with Bert Van Wassenhove, managing partner of The CoFoundry and founder of Think with People, and Anneleen Hansen, marketing manager of Apicbase. Episode seven, with Koen Schrever (Bolero Crowdfunding) and Peter-Jan Brone (SettleMint) was all about Funding. In episode 8 we unraveled the secrets of successfully selling to corporates with Brecht Kets of Play it Safe, the game based learning platform for safety and prevention, and Steven Everaert of retail data platform Impaqtr.
LINKS
Mealhero is founded by three young entrepreneurs: Anton Claeys, Steven Debaere and Jeroen Spitaels. The healthy food service was launched in November 2017, with a pre-sale period of one month on the Kickstarter crowdfunding platform. After hat month, mealhero had built a community of 333 users – or mealheroes, as they like to call them –, representing an amount of almost € 80.000.
Mealhero was inspired by the Kickstarter campaign of Onak, that produces revolutionary foldable origami canoes.
Kickstarter is just one of the many crowdfunding platforms, other well-known platforms are Indiegogo and Bolero Crowdfunding by KBC.