Entrepreneurship
23 February 2022
5 min
#StartitInsights: How Accenture drives inclusive change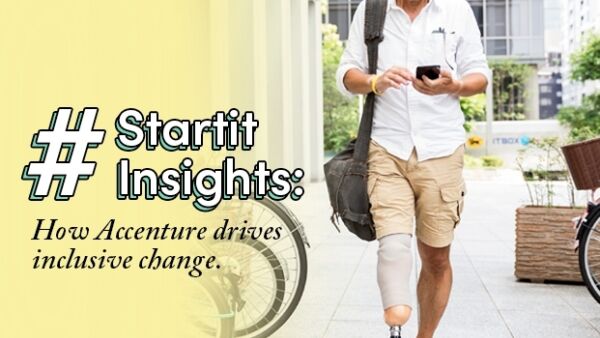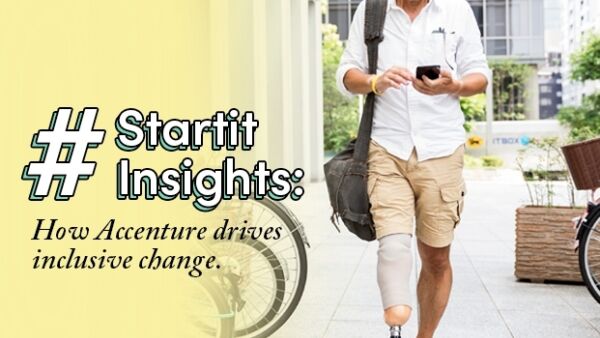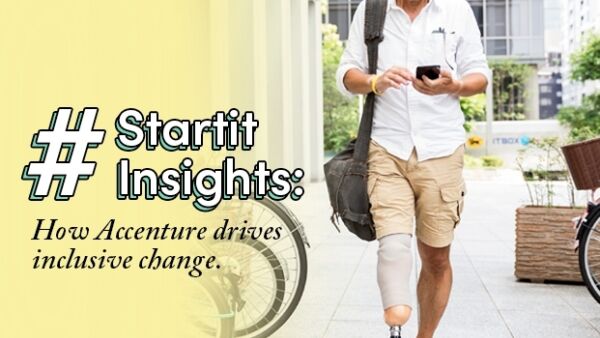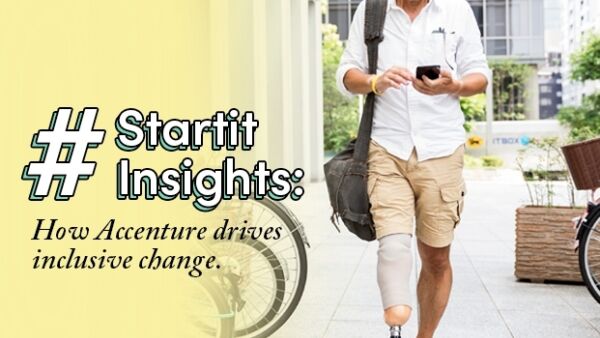 Back to overview
Breaking down barriers for people with disabilities empowers both them and the organizations they work for, creating innovation and growth. Our partner Accenture is at the forefront of inclusive change, using the latest developments in tech and society to think about the world not as it is, but as it can be. And it starts with hiring vocal advocates for inclusivity.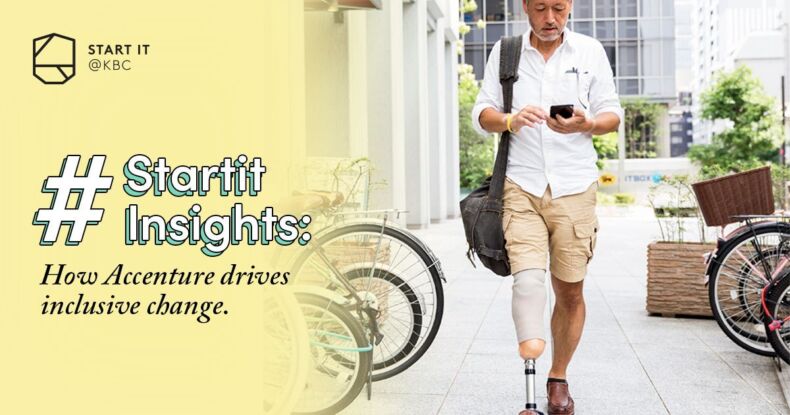 Solutions to help everyone thrive
Eric Delmasso is Accenture's Client Innovation Senior Manager based in France. He is charged with finding the latest opportunities for clients, helping them discover the possibilities of the metaverse, NFTs, crypto technologies and the integration of sustainability practices.
His perspective is shaped by relying on hearing aids, video captions and transcripts to overcome day-to-day challenges. This has helped him think differently about the solutions he provides to clients both online and offline. It has made him more attuned to the audio configuration of physical spaces and accommodating everyone in live meetings and extended realities.
In order to explore his full potential as an innovator, it has been important for Eric to be clear about what he needs to work at his best. "Being open with my colleagues allows me to focus on my work rather than the perceived obstacles," he says. "Accenture enables me to thrive with continuous learning opportunities while evaluating me solely based on my performance."
Accessible usability to create inclusive experiences
Liliane Claudia is Accenture's Visual Design Senior Analyst based in Brazil. Her drive to develop inclusive projects is shaped by being quadriplegic after a medical accident at age 14. At Accenture Interactive her role is to create inclusive experiences, overseeing accessibility and process-centered design.
"The proficiency of assistive technologies, guidelines and regulations for digital products are critical," says Liliane. "However, getting to know the daily lives of people with disabilities up close is a necessary differential." Her role is to know how people with disabilities interact and consume so that Accenture is at the forefront of accessibility.
To this end she created a workshop for leaders and executives in the telecom market using a tool called Usability-WCAG to learn about the accessible usability of the product through disabled proto-personas. She also worked with Adobe XD to create a successful plug-in that solves a major workflow issue for her and other designers with physical disabilities. They named it after her: the Liliane Canvas Control.
Small acts of consideration for big success
Naomi Rajendram helps clients achieve double-digit growth in her work as Head of the Salesforce ASEAN based in Singapore. As someone who is 70% deaf and continuing to lose her hearing (or "gain her deafness," as she puts it), she attributes "small acts of consideration" to accelerating her success.
Naomi has spearheaded programs like DeafTember, a month-long campaign to spread awareness around Deaf Culture, the importance of Sign Language, and is working on a Deaf Program to identify d/Deaf and HoH professionals who want to become developers, partnering with Salesforce for specialized training.
"I feel included when people turn their videos on in meetings, when closed captions are enabled, and people greet me in sign language," she says. "Work feels free from barriers when colleagues offer to join me in one-on-one meetings as a note taker so I don't feel there's any context that I might have missed."
A team that supports unique abilities
As a Senior Technology Architect based in the US, Everett Burkett leads state-of-the-art SAP technology projects for clients, staying on top of the latest hardware and cloud technology specifications. After being diagnosed with Parkinson's Disease following a long period of uncertainty and misdiagnosis in the midst of the pandemic, he says it was his colleagues at Accenture that helped get him through.
"I started with a small tribe of associates and detailed my challenges," he says. "My Accenture colleagues were wonderfully candid in letting me know that they had noticed or not noticed, which to me was very important. I now discreetly introduce myself to individuals and inform them of my 'unique ability' early on in a project, so that everyone is aware that I have certain challenges, but it doesn't affect overall delivery to our clients."
To help enable his workflow, Everett uses an external keyboard and voice-to-text accommodations to overcome difficulties typing and chatting online. While these technologies still need improvement, being part of an understanding team helps him feel supported. "The positive impact is that it has helped me in my SAP work by understanding the challenges people face when they're met with new technology and capabilities, he says. "I now more readily understand the struggles that end users face."
Over 1 billion people around the world have a disability. Accenture know it's important to have everyone at the table to design more inclusively and unleash innovation. Go to their site to learn more about how they're advancing disability inclusion.