We had an interesting couch sit-down with Thomas Deschepper, who is responsible for New Business & Startups at Telenet. As a partner of Start it @KBC, Telenet is closely connected to the Belgian startup scene. The telecommunication company has always taken a collaborative approach on innovation, developing new concepts, PoC, products and services in cooperation with academic experts, business partners and startups. The brand-new Telenet Innovation Center, which offers a platform to develop new products, services and solutions, has a central role in this approach. Thomas talks about the company's vision on innovation and shares some great tips for young startups.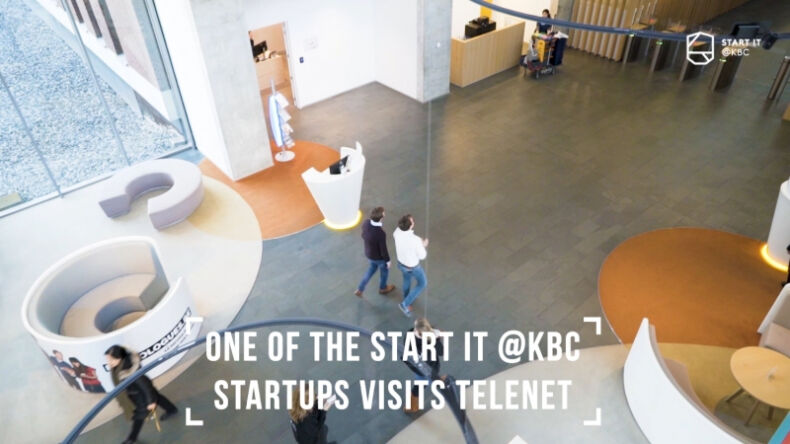 "Our collaboration with startups is mainly driven by the startups themselves", Thomas explains. "I get a call or an e-mail from a startup, outlining their product or service in a nutshell. In my role as liaison manager, I go and look for the teams within Telenet that could be interested."
When there's a match, Telenet reaches out to the startup. "We aim to come up with a low-touch, low-friction couple of first steps, so that we can start working together as fast as possible. After that, we let the data judge whether we should extend that collaboration", Thomas says.
A wide range of interest
Telenet is a cable and mobile operator that provides connectivity and entertainment to both the B2C and the B2B market in Belgium. "Our range of interests is very wide, going from connectivity solutions, like a smart router with parental control, to ad tech solutions for media and VR or gaming concepts in the entertainment sector. In B2B, we are on the lookout for offerings which could improve our products and services towards enterprises. And of course, we're interested in smart ideas that can improve all the processes behind delivering those products and services to our customers."
When choosing a startup to collaborate with, Telenet looks at the startup's age and maturity. "We prefer to work with people and ideas which have already matured a bit", Thomas says. "Innovation is not only about the idea, but also about the execution of that idea. We think startups should already have some first indications of product-market fit, a good team in place and some kind of funding available. If that's the case, we can get the ball rolling and keep it rolling. But we do function as a sounding board from time to time, so we keep a close eye."
The international market
Is Telenet also looking across the borders to facilitate international startups? "Telenet is majority-owned by Liberty Global, the biggest cable company in the world. And in that constellation, Telenet is seen as a kind of test lab", Thomas tells us. "We were the first to pioneer quad-play services and IoT, we have our own set-up box, and so on. So, there's a lot of expertise here in Mechelen. What we often see is that a successful project at Telenet can open doors to introduce the product in other countries under the Liberty Global umbrella."
Thomas tries to stay personally involved with Start it @KBC as much as possible, by attending pitching sessions, events and board meetings. "I get a lot in return from the startup community", he says. "I learn about new technologies, applied in a startup. It's great to see startups solve real problems and launch new business models, maybe even better than a big company would. I love the connection with all the other partners. Thanks to Start it @KBC, I get to meet a lot of new people and I'm exposed to a lot of great ideas."
Tip & tricks
To conclude, Thomas shared 4 of his most valuable startup tips and tricks:
1. Put yourself in your client's shoes
Know the specific strategy of the company you want to sell to, and maybe even the challenges of its industry. Check specialized press, network at industry conferences and read whitepapers by firms consulting to that industry.
Remember that even if your product or service is right up the alley of the company you are selling to, things like resourcing, budgeting and timing can make it difficult to collaborate. Be prepared for that and make a plan B.
2. Make a painkiller
Focus on the big problems or pains of a company or industry. Try to create a real painkiller, not a nice-to-have vitamin. This will practically guarantee you get enough 'air time' at the ExCo level to make your case. When it's not perceived as crucial, your product has a higher probability to get brushed under the rug.
3. Remove friction
Make collaborating as low-friction and easy as possible. SaaS companies are really good at this, by having a clear call-to-action in all their communication and by offering generous free tiers of service. By proving success along the way through these free trials or PoC's, you build up perceived value for the corporate. You are halfway done selling, when you are seen as a partner who thinks with the company, and not another salesman knocking at the door.
4. See the value of reference customers.
When startups work with big companies, there is often some kind of friction. The most important factor in all of this, is the different clock speed between a young company (that needs all the agility it can get) and a big corporate (which needs structure and processes to keep checks and balances). Even with all this friction, working with big corporates is a tremendous source of value as they provide valuable problems for you - as an entrepreneur - to solve and generate trust and recognition in the market.