Chalo, that's funky feel-good food and drinks! With a variety of authentic products, Chalo is lowering the threshold to healthy food and inspiring people to discover products and recipes from other cultures and climates.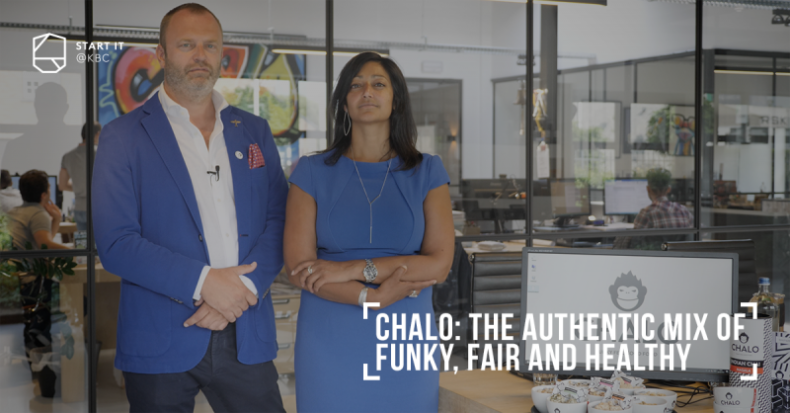 The idea for Chalo – which means 'let's go!' – was born after co-founder Gita Van den Boer visited India, the land where she was born. "During the month I was there, I discovered the taste of chai, a local drink based on black tea, herbs, milk and sugar", Gita tells. "It was impossible to find it here in Belgium after I came back, so I decided to commercialize chai myself."
The products of Chalo now come in 2 main categories: Guilty & Proud and the Happy & Healthy. The Chalo team consists of 20 people, including someone in the US and in Dubai. "Things are going very well. But to get where we are now, we had to work really hard", Gita says. "Chai was relatively unknown in the Belgian market at the time we launched it, so we learned very fast that we would need a big market to be successful. To enable this, we decided to take our brand abroad after only 2 months. Now we travel the world to pitch our Funky Feel Good Food-mission and have them taste and buy our products.
"Are you ready yet?"
"Our independence in building a high end love brand is key", co-founder Peter Goethals explains. "That's why we only used our own resources and focused on a professional structure first. We registered the trademark, took care of all the food compliances and made sure that the product was scalable."
Gita and Peter concentrated on a steady and organic growth, rather than aiming at a fast scale-up. "People sometimes underestimate that building a brand takes time," says Gita. "As soon as I took the step to work on Chalo full-time, people started asking me when they would find it in stores. I knew that preparation was key and that our time would come eventually."
Ups and downs
"It's a great feeling to be launching your own business. But the reality is, that you need a big amount of cash right away to pay your brand registration, food certifications, fixed costs and most importantly everything product and marketing related purchase need to be paid in advance. And first few months, before we were able to launch the product on the market, we simply did not have any revenue yet.
The support of Start it
"Around that time when Chalo became my full-time job, I applied for Start it @KBC", Gita says. "I pitched our business plan and luckily, we got selected. We followed numerous workshops that helped us to become the brand that we wanted it to be. The most important tool Start it taught us? How to create a Pimento Map. With this tool a startup is able to measure the maturity to launch their project in the market. This immediately showed us that we were on the right track building our product and establishing a love brand and a profitable company in the long run. At Start it @KBC we got to know a bunch of experts in different fields, people we can still contact today if we need their advice."
Closing the laptop
Launching your own business takes a lot of time and an incredible amount of energy. In Gita's case, the company was not the only thing that demanded her attention at that time. "I had the fortune of becoming a mother in the first year of Chalo. Not one, but two babies came into my life during that period", she tells. "From then on, getting my work and my private life organized, became even the biggest challenge of all. There will always be a bunch of work and professional pressure, but as soon as I close my laptop, the twins are all that matters!"