"If citizens don't want to come to town hall, we'll bring town hall to the citizens!" With that motto, Wietse Van Ransbeeck and Aline Muylaert developed a digital platform that enables governments of all sizes and levels to interact with their citizens. Four years later, CitizenLab has introduced its e-democracy platform to over 100 governments from all around the world.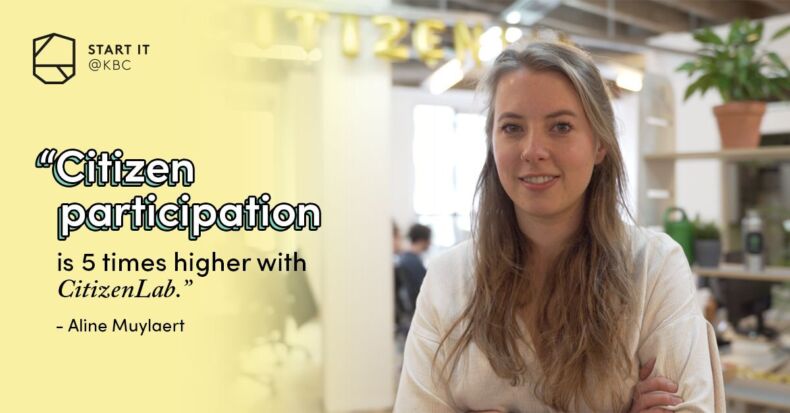 CitizenLab wants local governments to reach as many citizens as possible. How? By giving those citizens a clear voice in the form of an easy-to-use digital platform. With CitizenLab, it becomes easier for people to have a say in the topics that interest them and to participate in local policy making.
Making voices heard
"Living in Brussels during our studies made us realise how big the gap between local governments and citizens often is", says co-founder Aline. "My co-founder Wietse and I noticed that a lot of things in our neighbourhood needed improvement. And we even had some great ideas that we wanted to present to our local government. Unfortunately, making our voices heard proved to be very difficult. There was no easy way to reach out and share our thoughts. That's when the idea of CitizenLab was born. What started as a side project after school hours, became a full-grown company once we graduated", Aline explains.

Flexible guidance

Aline and Wietse already knew Start it @KBC from previous entrepreneurial projects in school. "We applied right away and joined the community in 2016. For us, the Start it @KBC office was a place where we could fully focus on one thing and one thing only: our business. And it was via the Start it @KBC network that we soon met Koen, who would become our third co-founder."

Start it @KBC had a big impact on the HR aspect of CitizenLab. "Wietse and I both had an entrepreneurial background, but we didn't have any technical software skills. With a more technical co-founder on board, we used the Start it @KBC network to recruit even more semi-technical profiles, like product marketeers and analysts."

Explore international markets

"We loved the guidance and flexibility that Start it @KBC offered. The mentors supported us, but they also gave us the freedom to choose our own path. Looking back, I think Start it @KBC also learned from us. It has worked in both ways: the success of CitizenLab showed Start it @KBC the potential of gov tech."

Today CitizenLab is a company of 15 people, located where it all began: in the centre of Brussels. "We work with over local 100 governments in about 10 countries, ranging from the Benelux to Scandinavia and even Canada", Aline says. "We now know how to scale our product, which gives us the possibility to explore international markets. In that optic, Brussels is the perfect hub for us; it's close to nearly all European capitals and there's an international population to recruit from."

Visible impact

"The beauty of Citizenlab, is the fact that you can see the impact all around you", Aline says. "We've accomplished some great things that make a difference in local communities. We have seen the development of new parks and city squares, important improvements in mobility, … Citizen participation is 5 times higher with our platform, compared to traditional info sessions. We see ourselves as a sort of social enterprise."

"We knew we had a good product. But without any real experience or references, it was hard to get people on board. In 2018, that became even more difficult because of the local elections in October. 'Sounds great', they said, 'but not now'. We had to change our business model and differentiate, in order to cope with those dry spells. After the elections, we noticed that many of the newly installed governments had made citizen participation a top priority."

Learning along the way

"We had to learn everything as we went along", Aline admits. "Who will take the lead? How are we going to structure the company? Neither Wietse or myself had any experience managing a team, but we learned along the way. I guess that was our biggest challenge: shaping the actual company."

The building of a team turned out to be a crucial step in the development of CitizenLab. "Having the right people aboard is vital", says Aline. And I can say we have to thank Start it @KBC for that. Their network introduced us to a lot of talented people. That would be my main advice to young startups: use networks and communities like Start it @KBC to find the expertise you need. Talk to people who are doing what you are doing. Expertise from academics and experts is fundamental.