When IT and horse stable management come together, Equicty is what you get. This digital platform allows all stakeholders - from horse owners to vets, stable managers and farriers - to connect with each other and share essential information. Only four years after its launch, Equicty is now active in 20 countries across the globe. Thus their pronouncement: "It may be a niche market, but that doesn't mean we can't grow!"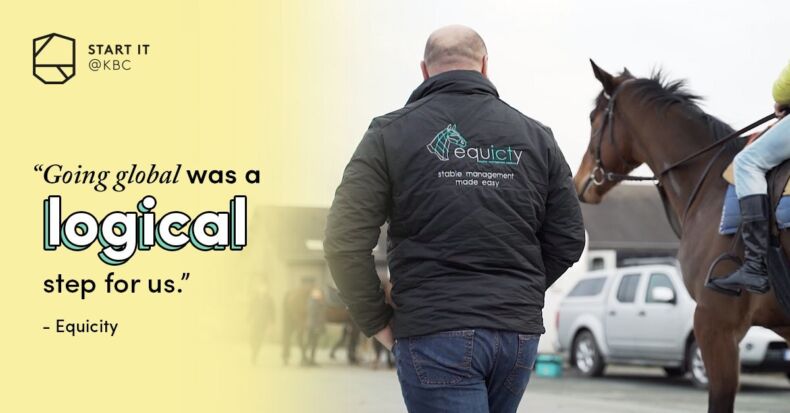 Anyone who has ever ridden a horse knows what taking care of these extraordinary animals means. For professional stable owners, horse management is a complex job that involves many different people and organisations. With the help of Equicty, these stakeholders can easily share and monitor the daily management of the horses in their care. From medical updates, day-to-day activity schedules and financial documents to invoices, you can find them all merged in this one transparent digital platform.
On the back of a beer mat
Let's go back to the very start of Equicty in 2015. Co-founders Bram Balcaen and Samir Brahimi are at a bar on a Saturday night, brainstorming potential business ideas. The idea they came up with, Bram tells us, they "wrote down on a beer mat".
"We've both been horse enthusiasts our entire lives", Bram explains, "Samir and I had each worked in professional stables and we'd noticed that there was a strong desire for a professional horse management tool. We started doing research and soon I began developing the beta-software. After a while a few clients got on board with the idea and Samir and Kristof became official partners in 2015. That's when our company was born."
Specific workshops
Co-founders Kristof, Samir and Bram got in touch with Start it @KBC via the accelerator program of IMEC, one of Start it @KBC's partners. We wanted to get access to the Start it @KBC workshops and coaches", Kristof says.
"Those workshops specifically are what made the difference. The potential coaching and the prospect of meeting an enormous network of experts and fellow-entrepreneurs convinced us to apply for Pitch Day. And of course, the financial benefit of having a free office space at our disposal meant a lot as well."
Going global: a logical step
When Equicty graduated from the Start it @KBC community in 2018, they went from startup to scale-up in no time. They moved into a new office located right beside the race track of Waregem, where the annual Grand Steeple-Chase des Flandres takes place, also known as 'Waregem Koerse'. The team grew pretty fast after Equicty left the Start it @KBC program (in September 2018). And so did their revenue, which tripled over the course of the last year. The team now consists of ten people and the customer base gains five to ten new customers every week.
"Because our product is adaptable to the client's needs, we have customers from 20 countries in different parts of the equine sector. From sport stables to horse shows, and from trading stables to breeding studs", Kristof says. "Horse management is an international business, so going global was a logical step for us."
Struggling with setbacks
"With a small team over a short period of time, we managed to build a high-tech product. We even developed a structure that enabled us to become the market leader in our niche. It took a lot of hard work, but that's part of the startup process. Just like any other startup, we had setbacks. I remember none of us having experience with running a SAAS company. Concerns like security, cybercrime or legal issues and finding the right sales marketing strategy for this kind of company were completely new to us. The first few years were extremely hectic, but also great fun."
"We managed to turn our passion into our profession. Though it remains, primarily, a passion. We all still enjoy working with horses in our free time. Samir and Bram are both active riders, while I often work as part of a jury during competitions", Kristof tells.
"Know where you are going"
Although things are going great at the moment, Kristof, Bram and Samir still see many opportunities for the future. "We want to get to a level of complete automation and we want to keep growing by 300% every year", Kristof announces. "We are ambitious, because we believe that it's possible. The world of horse management is relatively unknown, but it's a huge market."
Equicty clearly knows where it wants to go in the coming years, which according to Kristof is one of the keys to startup success. "My advice to young entrepreneurs is to make sure you know where you are going, and to share that ambition with the rest of the world. That doesn't mean things will go completely as planned, but you need to look towards the future. Take the time to think about your goal and the finances you will need to achieve it."