Giving your favorite organisations a boost is just one click away, thanks to Trooper. We paid a visit to founders Elisabet Lamote, Jan Dejonghe and Klaas Olbrechts to find out how they turned a clever idea into an online platform that is helping over 3.000 organisations raise some extra money.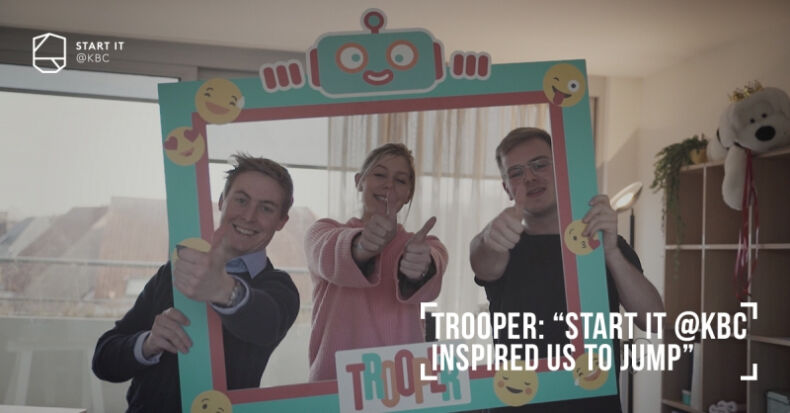 The concept of Trooper is pretty simple. The platform has a partnership with a large group of online shops and for every online purchase that you make via Trooper, the organisations of your choice receives a commission. This way, you support your favored organisations without paying a single extra cent.
Making dreams come true
"We believe organisations are incredibly important in Flanders", Elisabet says. "They bind our communities. We want to support the volunteers that keep all these associations running, so that they can have more resources to make their dreams come true."
The idea of Trooper was born after a rather dramatic event the hometown of Elisabet and Klaas, who are a couple in real life. The local Chiro youth organisation desperately needed money after a fire had burned down their entire accommodation. "At that moment", Jan tells, "we put our heads together to help them and came up with the idea of collaborating with webshops."
"It was an instant success", Elisabet continues. "In a short period of time, we raised a lot of money for the Chiro. We contacted a few other organisations our kids or friends were part of, and it seemed to work for them too. Not long after that, we found out about Start it @KBC and we applied for their pitch event."
The courage to take the jump
"The moment of our selection, was the real starting point for Trooper", Elisabet says. "That pitch gave us the courage to say "ok, we really have something valuable here, I can give up my job and take the jump". At Start it @KBC, we found ourselves in a network of people that were all doing the same: trying to get somewhere. We realized that everyone struggles now and then, every startup experiences setbacks and obstacles sooner or later. The Start it @KBC network gave us the motivation to keep going. I really feel that we are where we are thanks to the Start it @KBC community. Other startups pull you up when you're down, that's how you find new opportunities, new ways to go on.
Trooper recently won the Belgium's New Brand Award 2018 at the BAM congress. "To us, that award shows we've accomplished something during the last 2,5 years. It proves we were able to turn our concept into a successful company and that we matter as a brand", Elisabet says.
Building a house
Elisabet remembers the different reactions she received when telling people she was going to quit her job to start her own company. "Many people said we were crazy, but we also got a lot of support. I come from a family of entrepreneurs, so they were really supportive. My parents helped us out a lot in the beginning and they took care of the kids when we were working on Saturdays."
Trooper's first year was pretty hard, Elisabet recalls. "Our first website was an absolute tragedy. It took two whole days to add a new association to the platform. We invested a lot of our own savings in that website. It felt like building a house, but you're not sure if the windows will ever get installed and if you'll see a result."
Across the borders
Co-founder Klaas is confident that Trooper's future looks bright. "We're an online platform, which makes it relatively easy to scale. Right now, we are still working on getting our basics right. But we have the potential to grow our network in Flanders from 3.000 associations up to 50.000. And associations are not only a binder here in Flanders, they are very important in the rest of the world as well. That offers a lot of possibilities, starting with Wallonia and The Netherlands."
If there's one thing Klaas would advise new startups, it is: don't wait too long. "Enter the market as soon as possible and just begin. Go to the market, test, learn and repeat. Don't just sit in a corner developing for too long. Elisabet agrees: "Dare to jump and work hard. And surround yourself with experts, like the ones we met at Start it @KBC."