After twelve crazy months in the Start it @KBC hub in Antwerp, followed by an even crazier crowdfunding campaign that exceeded all expectations, w.r.yuma took off with a bang in 2018. We talked to founder Sebastiaan de Neubourg about his brand of recycled sunglasses and his mission to create a circular business model.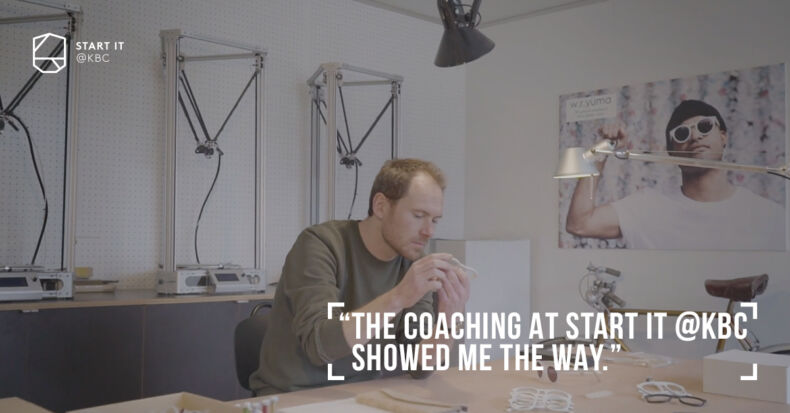 Zero-waste production process
Recycled sunglasses are hot, thanks to w.r.yuma. Sebastiaan's designer glasses - which are named after the sunniest place on earth: Yuma, Arizona (US) - don't just look smart, they represent a very smart business idea as well. How else would you describe sunglasses that are 3D printed out of plastic waste from car dashboards, fridges and soda bottles?
How it works? The plastic waste is being melted into 3D printing ink, available in different colours. Car dashboards produce black frames, while the transparent models are made almost entirely out of soda drink bottles. The white sunglasses are made from recycled fridges.
Dreaming of a circular economy
CEO Sebastiaan's ultimate goal is to create a business model that is completely circular. "The first step is creating and selling a product that is 100% recycled", he says. "But it doesn't stop there. When people want to buy a new pair of glasses a year later, they get a discount for turning in their old pair, which will be recycled again. If we can make this circle work, we would be the first eyewear company in the world to do so."
"Before I became an entrepreneur, I was a consultant for startups and innovative businesses", Sebastiaan tells. "I mainly focused on circular economy, giving workshops and organising brainstorm sessions for companies. But I missed working with my hands. I'm an engineer and I wanted to go back to the physical process of creating something. That's the reason why I quit my job and started my own company. I already knew Start it @KBC from my job as a startup consultant, so applying was the logical first step. I joined the community in September 2016 and stayed for a year."
"We're not your average startup, since we do our own production. But the struggles we face are basically the same."
Even though he was already working as a consultant, becoming an entrepreneur was a big step for Sebastiaan. "I realized I had to jump in order to succeed, otherwise nothing would happen."
"The biggest benefit I experienced as a member of Start it @KBC, was being part of the large network. I was able to learn a lot from talking to other founders and sharing experiences, both technical and strategic. And don't forget the emotional support: it means a lot to be able to share your ups and downs with people that are going through the same things. We're not your average startup, since we do our own production. But the struggles that we face are basically the same."
Trial and error
Right after the year at Start it @KBC, w.r.yuma launched a Kickstarter campaign that turned out to be very successful. What followed was an intense period of ups and downs. "I remember we had to re-engineer our product completely", says Sebastiaan. "Many people think 3D printing is done in a heartbeat, but I can assure you it is not that simple. The time spent on assembling and finishing the products, is immense."
"I can't recall how many times we had to start over. The problem with recycled waste is that it's never exactly the same. Getting the production process 100% right was a huge challenge. Did we make mistakes? Yes. Were there things we should have done better? Definitely. It was all one big experiment, an intensive learning process. Trial and error was the only option we had."
Taking time off to relax was pretty rare in those days: "I worked every day for weeks, even months. But the human body needs rest once in a while. Taking time for your social life is essential if you want to stay healthy. Now that I have a baby girl, it's much easier for me to forget about work completely."
Plenty of challenges left
What does the future hold for w.r.yuma? Sebastiaan is definitely not planning to turn his startup into a large multinational company. "I'm the sole founder and I intend to keep things pretty much the way they are. I might hire a freelancer for things like sales and marketing, but I don't necessarily want a big team. I focus on the next collection now, with new models and new materials. There are still a lot of challenges left for w.r.yuma, like the use of bamboo and wood."