Stories
News & events
16 December 2020
6 min
#WisdomWednesday: How diversity makes your company more agile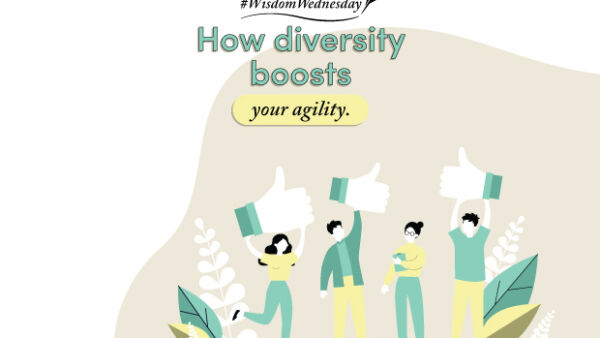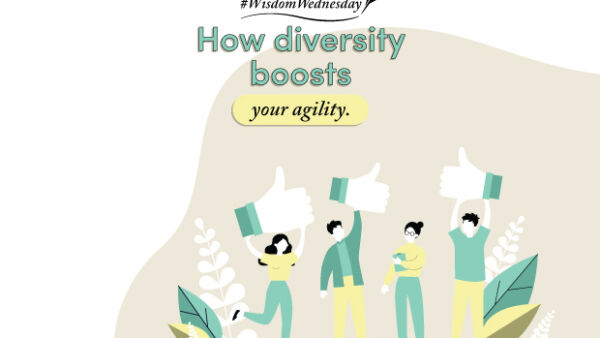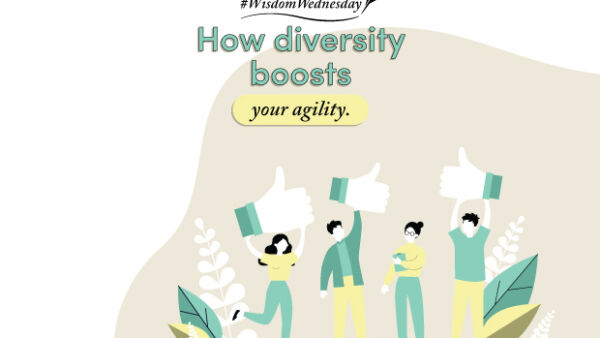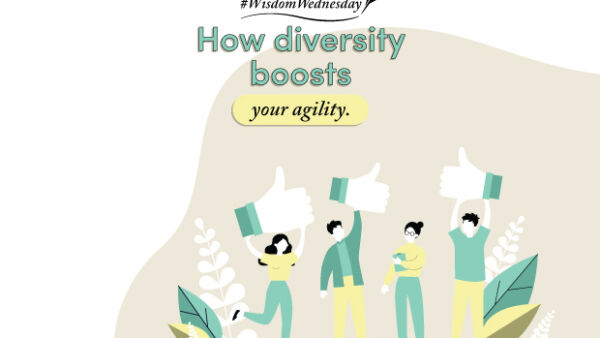 Back to overview
This #WisdomWednesday we want to circle back to an important topic that is shaping the future of business: diversity. We've already explained how diversity can strengthen your company and community in this blog. This week we're going to dive a little deeper into how diversity can help your company adapt to change and the importance of truly integrating different world views.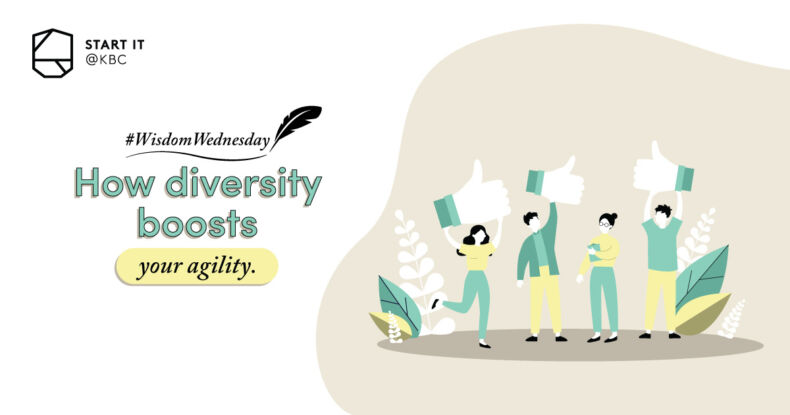 Diversity is the essence of agile
Evolving as a company starts from within. Diversity gives companies a major edge by adding to their ability to adapt. Strategic advisor on diversity and inclusion, Hassan al Hilou explains: "Young people who grow up in multiple cultures are able to switch gears quickly. They adapt quickly to different environments." Likewise, being accustomed to working with a variety of world views makes companies more agile, which is essential in today's fast-changing world. Being able to switch gears and pivot quickly helps harness change for your competitive advantage: McKinsey found that racially and ethnically diverse companies have been shown to be 35% more likely to have financial returns above their industry mean, while gender diverse companies were 15% above the mean.
Of course not every startup has lots of different people on their team: many are working with a tiny founding group, that isn't necessarily from diverse backgrounds. Are they doomed? Not according to Al Hilou. For him it's not just about your background, but also about how you seek out different viewpoints. "Go out and talk to the neighbours and potential customers in diverse neighbourhoods," he says. "There are people with a variety of backgrounds living in every city. They represent your customer base too. If you ignore them, your product or service may end up being irrelevant to large swaths of society."
Getting out of the echo chamber
As labour economist Stijn Baert recently said in an episode of Techmag, diversity in the labour market is about much more than ethnicity. Take age and gender, for example. Dewi Van De Vyver has a clear statement to make about the latter: "Men and women have a different way of seeing things, of approaching things. If you constantly look at everything from a single point of view, you will make wrong decisions. For example, males have a different physical response to medication than women. Isn't that important to know? But if you were to only test on males, you would lose precious data," she says.
We could go a step further and say that diversity isn't just about demographics, but about points of view. The goal is not just to have a variety of backgrounds on board, but to enrich the company with a variety of viewpoints. When teams are too likeminded it creates blind spots which trap us in self-reinforcing echo chambers. The more data you have, the broader a view you have on a situation. This gives you more information and insights to inform your course of action.
Our startups agree that different perspectives create a wider perspective on the world. Take Marco Topalovic of ArtiQ: "Our goal is to build an international company; our technology knows no boundaries," he explains. "This internationalisation starts at the core with our own team. It is in the DNA of ArtiQ. We translate our team's international, multicultural DNA into our products and services." One of the benefits of a broad point of view is more customer satisfaction. Because you want to capture a diverse market as well: customers young and old, from different cultures and backgrounds. The best way to see things from their point of view: hire a diverse workforce.
Hiring for diversity is just the beginning
We've written before on how diversity helps you recruit and hire the best talent, which only makes sense: the bigger your pool of candidates, the more likely you'll spot talented candidates who have the right skills and motivation. Having a reputation for inclusiveness helps attract a wider range of candidates. A 2020 survey by leading US recruiting site Glassdoor found that a whopping 76 percent of employees and job seekers report a diverse workforce is an important factor when evaluating companies and job offers. By promoting diversity, you're also boosting the inclusiveness quotient at your company by attracting people who share those values.
But getting a diverse group of people on board is only part of the puzzle. If your company doesn't cultivate diversity on a cultural level, you will fall into the trap of tokenism, where you get complacent because you've checked a certain number of demographic boxes. Sounds harsh, but we have to give it to you straight: hiring diverse people doesn't automatically make you inclusive. It can even create resentment if your approach to diversity comes across as hypocritical or shallow. Ouch!
If you really want to really walk the walk, take it from Katy Jackson of Abracademy: "Different nationalities only really become an asset if you manage to build a culture that allows for differences and encourages your team members to share those differences." The fact is, dealing with different perspectives is challenging. It could lead to passionate debates and take more time to reach a consensus. It puts people in a position to question what they know and what they think is right. The idea is not to get everyone on the same page about everything, because then you risk becoming the mediocre average of all your perspectives. Better for everyone to stay who they are and to do the work of finding a solution together. That is true diversity, and that's what the challenges of our complex world call for.
How does your company use agile principles to cultivate diversity? Let us know!