Corona has been more than a beer in our popular vocabulary for almost four months now. A period that has changed the way we live and work forever. This #WisdomWednesday we're looking back at a time when life seemed to stand still, and we all had a lot of rethinking to do: the lockdown. While we hope it's the last time we have to go through it, our first-ever mass confinement taught us some valuable things. Lessons we were proud to see that our startups picked up quickly, and ran with: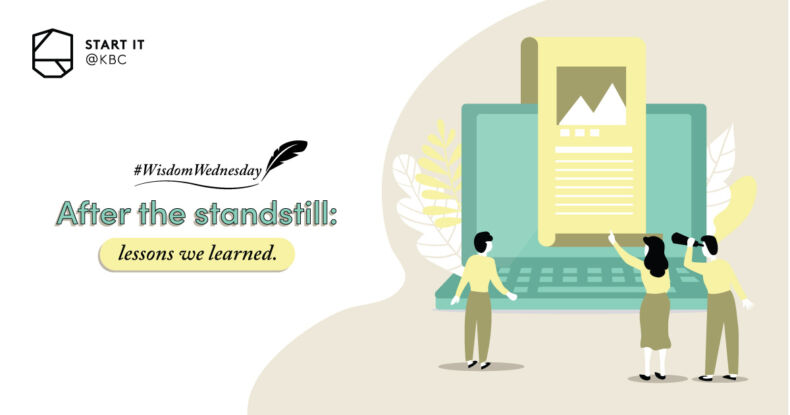 #1 It really IS all about people
They say that running a company is all about people. But we've been getting a real education on what that actually means over the past few months. Because in these times, making it as a business is all about agility. And for that you need people.
François Gerard, founder of Helpper, experienced this for himself. "Yes, we could have used temporary unemployment in the past few months to save costs," he tells us. "But I didn't want to send that signal. I believed that we should actually keep everyone on board, to give the best of ourselves, even during this crisis. And I haven't regretted it for a second. "
This approach won't just pay off in the short term. The lockdown has given a lot of people time to think about the next step in their lives, and their careers. People that feel that their employer didn't care about them anymore, started questioning whether they wanted to keep working for that company. Finding and retaining your talent has fundamentally changed.
We see that a few of our startups have also had a hand in that. Start it @KBC circular construction startup JuuNoo saw that the lockdown had a lot of us out of work for a season. So they got together with Bulik Standbouw to launch togetheragainstcorona.be to help companies and underemployed workers find each other. That's just one of many examples of the people factor we've seen in action within our network!
To be clear: solidarity was more crucial than ever, but so was communicating with people. A crisis like this impacts everyone, so many entrepreneurs had to figure out how best to communicate with everyone involved. Not just with their employees, but also with their customers for example. Do we even have to explain how the future of sales is about developing authentic relationships and a hyper-personal approach?
#2 Health & wellbeing is not a luxury
Let's get something straight: attending to the human element also means paying attention to health and general wellbeing. Through our Wellbeing Academy we happily give you tips to keep you "safe and sound" as a founder, mentally and physically. That's why we organised our first Wellbeing Day in June, with great success!
The wellbeing of your staff is at least as important. From more purpose and connection to increased engagement and lowered absenteeism: there are reasons enough to invest in employee wellbeing TODAY. In a recent survey by the Belgian government, a quarter of employees said that work has a predominantly negative effect on their health. Ignoring the effects of the corona crisis on health and wellbeing is only going to push those numbers up. Confinement gave us a lot to cope with: separation from friends and family, uncertainty and fear for those who fell ill. This made the need for companies to have a wellbeing policy stronger than ever.
It's great to see how our own startups have really built their businesses around this concern for wellbeing. During corona, sports tech startup 6Wolves started a free platform offering live workouts to keep our bodies moving throughout the corona crisis, helping us tone up and stay sane. Moonbird not only relaxed us with their tool for breathing exercises, they also helped get us through confinement by organising free livestreams with experts on mental wellbeing. Of course there was also Sleepability's sleeping challenge, because a good night's sleep is everything!
#3 You've got to use your pivot power
In any case, it was fantastic to see how many startups had our backs during this difficult time. Not just because there are so many awesome companies in Belgium (and of course our network ;-)) but also due to the power of startups to adapt to the new normal.
Many companies changed their business models overnight. L'arin Cosmetics for example shifted part of their sustainable shampoo production to producing liquid hand soap and lotion, which were suddenly in high demand. Then there's Just Russel, who developed a contact-free delivery service for their personalised premium dog food.
Let's not forget the health tech companies that adapted their businesses and products to the pandemic. Byteflies started developing a bandage to monitor corona patients. Fibricheck launched their "Telecheck AF" project enabling heart patients to measure their heart rhythm at regular intervals seven days before a scheduled teleconsultation. There's also Bingli, the smart chatbot that handles intake interviews, which makes medical consultations more efficient.
Start it @KBC had to pivot too: instead of cancelling our pitch day we took it fully digital, giving our startups smart tips on how to give a great pitch remotely. This led to more digital events and webinars, which were such a hit that we decided to host fully virtual networking nights this summer. Want to register for a refreshing virtual drink while gaining new insights into the world of innovation? Sign up here today!
Have you had to fundamentally change your approach to business? Have an interesting story to share? Send an email to magali@startit.be!