Stories
Diversity and inclusion
18 November 2020
5 min
#WisdomWednesday: Why we need more women in tech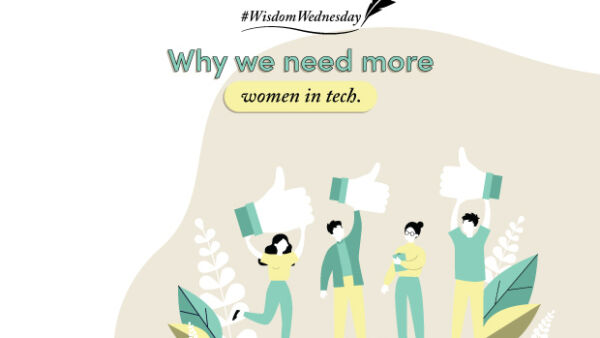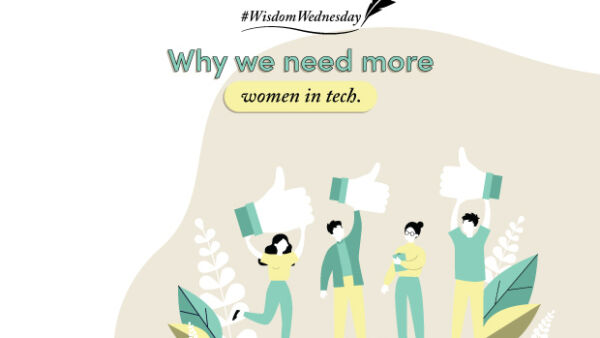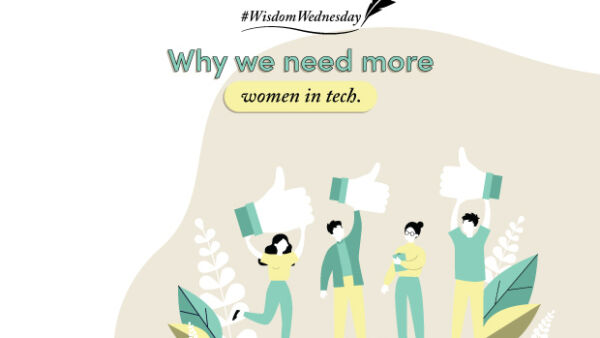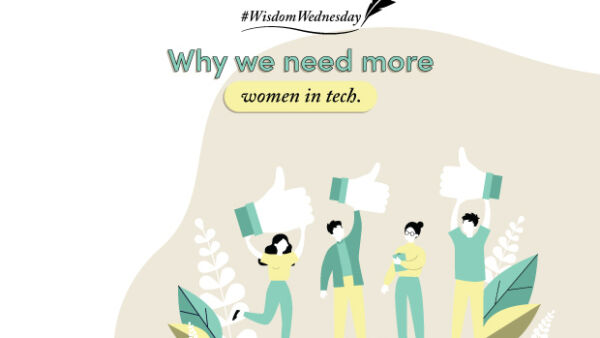 Back to overview
More than half the new companies supported by Start it @KBC have a woman as their founder, up from a quarter just a few years ago. Progress to be proud of, but why exactly is having more women in tech so important? Promoting gender equality is only part of the answer. This #WisdomWednesday we're tapping into the insights of our Women in Tech program with Netwerk Ondernemen and explaining why having more women in tech is a big win for everyone: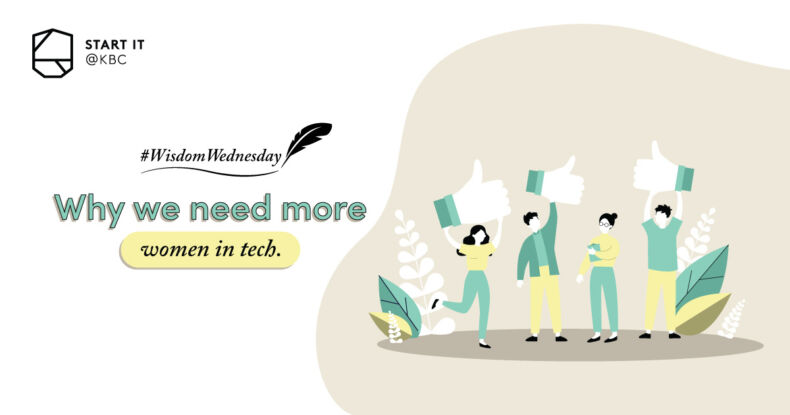 Half the world, half the customers
The fact that women make up half the users and customers in the business world should already be enough reason to have more women in tech, right? An astonishing array of products are of course specifically targeted towards women, from breast pumps to cosmetics. Women also spend more time making purchasing decisions for their families, picking out everything from the kids' clothes to daddy's juice blender. Whole industries, from fashion to greeting cards, would just crumble without them. In a competitive market, we can't afford to overlook women as customers, decision-makers and end users.
After all, women make up half the world's population. That's a pretty huge market and huge potential for building and targeting high-tech products and services. So it seems more than logical that when you're targeting women, you would want women on your team. Since women also have (at least) half the world's brain power, sectors that aren't employing them are also missing out on some of the best and brightest talent out there. We need that mental force to drive innovation.
It's all a bit of a chicken and egg thing too, as people are less likely to work for an industry that they don't feel associated with. The more tech tries to truly understand women, the more women will become passionate about tech. The more women become passionate about tech, the bigger their impact. To design and develop a competitive offering for women, you need women who design and develop these products and services. You can be sure that the number of women you have on board when your product targets women won't escape an investor's notice either.
Different viewpoints lead to more innovation
Businesses are always seeking new ways to create an innovative culture, fresh angles that sets them apart from the competition. But all the ping pong tables and brainstorming sessions in the world won't have the impact of the most obvious solution: more women in tech.
By now the research on diversity and innovation is iron-clad. Innovation runs on people with different life experiences and different ways of thinking. Looking at things from a different angle, challenging each other, throwing assumptions overboard: you can't create something out of nothing. You need people of different genders, ethnicities and backgrounds to make creativity flourish. That's because diversity forces the entire team to work harder to reconcile different viewpoints.
The good news is, you don't have to look far and wide. You've got half the population right there to help design the technology of the future. Once your company gets a reputation for having a diverse workforce, you get the added bonus of a powerful recruiting tool.
Women drive revenue
Not only does diversity improve problem solving, it also ups productivity and profit. High gender diversity companies deliver better returns and outperform less diverse companies. These conclusions aren't based on a handful of anecdotes, but on what tech loves best: hard data.
A study by the Boston Consulting Group (BCG) and the Technical University of Munich on the relationship between diversity and management showed that increasing the diversity of leadership teams leads to more and better innovation and improved financial performance in both developing and developed economies. The study showed that companies with the greatest gender diversity (those in which 8 out of every 20 managers were female) generated about 34% of their revenues from innovative products and services in the most recent three-year period.
Fortune 500 companies with at least three women in leading positions saw a 66% increase in ROI and have a purchasing power of an estimated $5 trillion. We're not talking about chump change here: that's some serious money. Companies that hire and retain more women have a competitive edge, and investors are well aware of this. More revenue for tech companies also means more funding for research and development, which is a win for all of us.
More women in tech begins with more female role models, of which we are proud to know quite a few. Start it @KBC mentor Dewi Van de Vyver, ICT Woman of the Year 2020 and founder of her own tech company, is giving a free webinar tomorrow (November 19) at 9 AM CET: Last chance to grab your ticket here!